In 2011 singer/songwriter and comedian Lara A King won the Funny Women Awards and was also a finalist in the Amused Moose, Loaded LAFTAS and L-Talent competitions. This year she is bringing her first full length show - People Pleaser - and her 1976 VW Campervan (called Patsy) to Edinburgh. I can't describe her any better than she describes herself: "Ellen DeGeneres meets k.d. lang and they somehow create a love child with John Hegley." We chatted just before her run in Edinburgh begins...

I've heard that serial killers often use three names so I was a bit nervous about meeting you Lara A King... but then I discovered there's already a Lara King out there doing interviews for Radio Humberside, so maybe that's the reason instead?
I'm not a serial killer although I do enjoy my Coco Pops. I actually put the 'A' in there because it is my initial and I like the way it sounds and the symmetry of it. In case that sounds pretentious I usually just say it's because of the radio lady.
Have you been interviewed by her yet?
No, that would be fun wouldn't it, although I interview myself in my bedroom all the time.
So what's in the show?
It's some chat and some songs hung around the framework of the title People Pleaser. It's about the dilemma of modern life in trying to please people and more than that, to please yourself. Hopefully along the way I'll be pleasing audiences too.
Do you have an on stage persona?
It's basically me - I want to come across as someone who's having a nice time on stage because generally I am. People tend to say I'm very smiley and affable up there which is good.
Well done on winning the Funny Women competition last year. Was the motivation in entering the competitions to win, or more for the experience?
I wanted to win but also I hadn't been doing stand-up for very long and I wanted a benchmark to see whether I was any good at it or not.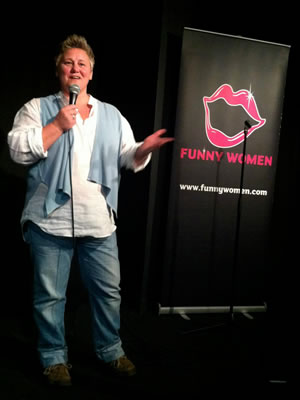 Was this Edinburgh show part of the prize?
No, the actual prize was some cash, to set up my own website and a night in a posh hotel in London. I gave my brother and his wife the night in the hotel and already had my own website so they transferred that prize to pay for my programme entry for Edinburgh which was great.
They also had this venue for two weeks of the festival so I asked if they'd consider me having it for the second two weeks and they were kind enough to go along with that. As the winner they're also really helping me promote my show and to make it as good as it can be.
It starts on Saturday. How are you feeling about it right now?
Very excited. I can't wait to get cracking. It's like I've been here for ten days and I haven't done my own show yet. I did a couple of previews that went very well and had slots in other shows but I've not had any reviews yet. It's worked out well in a way though because the first week here was quiet thanks to the Olympics and it's given me a chance to see a load of other stuff and to cobble some new bits together.
Which shows have you seen so far then?
It's been good to see people I've become friends with through the comedy circuit such as Checkley & Bush, Mae Martin, Suzy Bennett and Ladies Live Longer. And it's always brilliant to see Fascinating Aida, having been their Company Manager for the last 16 years or so.
Yes I was going to ask about that. I understand you also tour managed Rhona Cameron and Sue Perkins?
Yes and Punt & Dennis - that was interesting as it was very different touring boys to touring girls.
In what way?
Let's just say boys help you carry stuff and open doors and get you sandwiches and things.
So how was it as a job?
I loved and hated it equally. Every now and then I'd just shake myself and think 'have you got any idea what a brilliant job this is?' because it totally involves all the things I enjoy - the theatre, travel, meeting new people. I was also doing my technical thing as I was Fascinating Aida's set and lighting designer on the last tour I did with them. So I got to be creative, and be in charge and wear black with a penknife hanging off my belt - all the good stuff. But the frustrating part was that I wasn't on the stage myself, which is where I wanted to be and where I am now.
And is that experience living up to your expectations?
Absolutely! I do find myself stage managing myself though from time to time.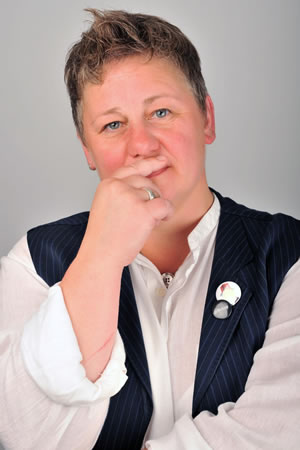 Any stand-up is vulnerable heckling and criticism but as a female, gay comic are you finding that difficult, or something your audiences embrace?
I make them embrace me. No, I've never been heckled on stage (which is an important distinction!) for being female or being gay. The kind of heckles I get are people joining in thinking they're being funny, or the other day in a bar when a guy was making a cocktail and shaking it so loudly no one could hear me!
I don't think that kind of sexism is around so much now. Most people want to see at least one woman on the bill, although it's not usually more than one.
When you were young who or what first excited you about comedy?
As I kid I used to listen to Grumbleweeds on the radio with my Dad and we'd watch shows as a family like Morecambe & Wise, Dave Allen, Tommy Cooper. There was always comedy on in our house. As I got older I loved Victoria Wood, French & Saunders, Jo Brand, Jack Dee.
What are your plans after this year's Edinburgh?
I've got my own club night in London on the first Sunday of the month called Sunday Sundae. It's a mix of comedy, music, magic and whatever else we fancy, at the Boogaloo pub in Highgate. It's a music venue owned by Shane MacGowan of The Pogues.
I'm also launching a Fish and Chips and Comedy and Cupcakes night in October on the first Friday of the month. It's what it says it is and will be at the Karamel Club in Wood Green.
Then I do lots of work in Brighton with Funny Girls and The Short and Girlie Show (SAGS) which is an 8 strong, all female, all gay, improvisation show. And gigs in London of course. I've done quite a few with Funny Women this year but my crown is about to be taken now, after the 2012 final in September.
So you've brought your camper van along and it's becoming part of your show?
Yes, it's going to be parked outside the venue. The audience are welcome to come and join me after the show for a cup of tea, maybe a mystic reading and a chance to win £200 worth of Joy goodies. Joy is a local clothes and vintage style gift shop who are lending me a camper van tent to use on stage. I'm also planning a bit of a busk in my actual van with some friends joining me like Mae Martin and Checkley & Bush. So it will become a little performance area of its own. I heard someone did their whole show in a camper van a couple of years ago. It was brilliant. They could only perform to few people at a time and there were queues around the block. [Laura Mugridge's Running On Air]
So I'm really looking forward to that, as much as my show. Instead of coming off stage and being alone I'll have lots of people around to see me. And as a People Pleaser I aim to have every flavour of tea.
That sounds like a challenge to me!
'People Pleaser' is on at Assembly George Square 18-26 August at 2pm. Listing
End note: Unfortunately I had to leave Edinburgh before Laura's show starts, but I've seen Lara perform a few times now and it's always a lovely and funny and warm place to be. Before she made the leap to comedy, Lara began performing as a singer/songwriter in the more traditional sense. You might like to view this video of her beautiful, self penned song It Ain't Mississippi.