Play the 'Spot the Rare Face Posters' game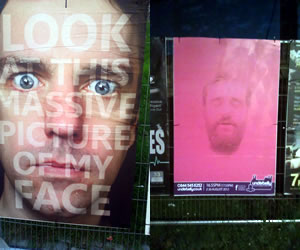 We've devised a little game for anyone who is visiting the Edinburgh Festival this year... it's called 'Spot the Rare Face Posters'.
The idea is quite simple: you just need to spot the big posters (full sized billboard posters) which don't actually feature the name of the comedian anywhere on them - instead there's just a big picture of the comedian's face. There are two designs as far as we can tell; Ben Target's slightly creepy red poster, and Nick Doody's full-on 'Look at this massive picture of my face' poster.
Doody's poster has particularly caught our eye as not only has he not put his name on it, he hasn't even put his show's details on there. An odd marketing tactic perhaps - but one that may now have paid off, as we've published the details at the bottom of this article to help guide people towards his show.
What makes this 'Spot the Rare Face Posters' game particularly interesting/fun/pointless/rubbish (delete as appropriate) is the posters are pretty rare. We've only spotted two Ben Target posters across the city so far, and Doody tells us that there are only two large-size versions of his poster around the city too. With thousands of posters dotted around Edinburgh for the month, finding them may be quite a challenge!
Below are examples of the poster designs so you know what you're looking out for. If you're up for playing, email us with the locations as you find them, and whoever sends us the most locations by the end of the festival will win a prize from our goodies cupboard. (Note: the copy of Doody's poster below says 'tiny' where we're looking for the version stating 'massive'.)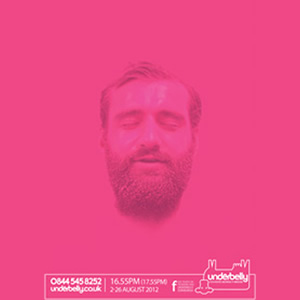 Ben Target's show is at the Underbelly (Cowgate) at 4:55pm. Listing
Nick Doody's free show is at The Canons' Gait at 8:25pm. Listing