Durham Revue
The Durham Review: Deckchair Diaries
Sketch show
1am (1 hour)
2-14 & 16-26 Aug 2012
8 - 9
This is a 2012 show that has now finished.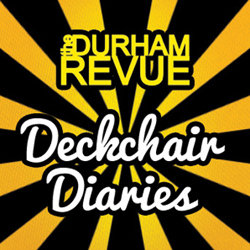 Show details
Sketch show performed on the following days in August 2012...
Mon
Tue
Wed
Thu
Fri
Sat
Sun
01
2
3
4
5
6
7
8
9
10
11
12
13
14
15
16
17
18
19
20
21
22
23
24
25
26
27
28
29
30
31
Venue details
Enjoy the Great British Summer with an hour of 'sublime' (ThreeWeeks) sketch comedy from the multi award-winning Durham Revue. Expect laughs, larks, and lashings of ice cream. And deckchairs. But there won't be any sunshine - we want it to be like an authentic British summer. There's going to be a bucket and spade full of wit, whimsy and all round mirth. If you were thinking about wearing socks and sandals, throw all your socks away now. Just remember to pack all the essentials, but mostly deckchairs. You'll need to sit down amidst all the hilarity.
Share this show
Reviews
Tweets by TheDurhamReview
Visitor reviews

MacStein
Learning their craft, but good confident performances - excellent timing - I thought some of the jokes were a tiny bit clever for the audience I was in, but that makes me an intellectualising ponce for getting them. Can I make a little suggestion? Get a pianist (all right, not so little - I believe Colin Sell is still 'unexpectedly' available) and do 2/3 more songs - the musical Mary Poppins skit was genius. None of the performers came across as starry, and really worked together well. I think if any of the six are looking to perform as a future career, no problems. That aside, I laffed for an hour, and then and went and had a drink or two and a half in the Bow Bar and laffed some more thinking back on the show - well worth it.