Doug Segal
Doug Segal: How to Read Minds and Influence People
Cabaret
7pm (1 hour)
2-12 & 14-27 Aug 2012
7.50 - 9.50
This is a 2012 show that has now finished.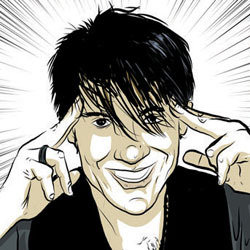 Show details
Cabaret starring Doug Segal performed on the following days in August 2012...
Mon
Tue
Wed
Thu
Fri
Sat
Sun
01
2
3
4
5
6
7
8
9
10
11
12
13
14
15
16
17
18
19
20
21
22
23
24
25
26
27
28
29
30
31
Venue details
'Imagine if Derren Brown was funny' (Evening Standard). Last year's sell out hit returns! A mind reading show unlike any other! Learn to read minds, detect lies and more. Seen on BBC1 and BBC3. 'The UK's best kept entertainment secret' (Time Out). 'A show that leaves people open mouthed with astonishment and on their feet' (Edinburgh Evening News). **** 'The excitement you get when a show is catching fire' (Herald). ***** (What'sOnStage.com). ***** (FringeGuide.com). **** (Skinny). ***** (PublicReviews.com). **** (FringeReview.co.uk). **** (EdinburghSpotlight.com).
Share this show
Reviews
Press coverage
Full press release
Have you ever wanted to read someone's mind or implant a subliminal suggestion? Doug Segal can teach you that and more in his hit show How To Read Minds And Influence People all while making you laugh in the process.
In 2011 Doug took his 45 minute show to the Free Fringe, buzz started to spread and by the last night of its 10 day run over 100 people queued outside the rammed venue hoping to get their hands on an elusive ticket.
Now, following a critically acclaimed 2011 tour and sell out runs at both Brighton and Edinburgh Fringe, mind reader and comedian Doug Segal (BBC1, BBC 3, MTV & others) returns with his hour long Edinburgh debut.
Doug is an exciting new breed of psychological entertainer combining comedy with seeming feats of mind reading & mind control.
There is absolutely nothing spooky or supernatural in what Doug is doing. Everything is achieved using one or more of the following skills from Doug's background in psychology & advertising: persuasion techniques, statistics, reading body language, subliminal influence and two key advertising skills: "Cheating & Lying", all done with laughs, rakish charm and a rock & roll attitude.
Doug will teach the audience the techniques he uses to detect lies, implant suggestions, read minds and even "predict the lottery". This unique show promises to turn the audience into mind readers by pulling back the curtains so they can see the workings. EVERYONE who sees this show will leave with an amazing mind trick they can do with their friends.
It's hard science ... abused in the name of tawdry entertainment.
---
Tweets by doug_segal