David Trent
David Trent - Spontaneous Comedian
Stand-up
10:45pm (1 hour)
1-13 & 15-27 Aug 2012
9.50 - 12
This is a 2012 show that has now finished.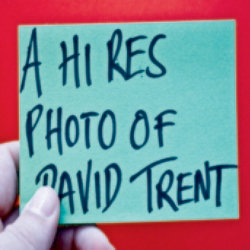 Show details
Stand-up show starring David Trent performed on the following days in August 2012...
On 6th and 7th tickets are two for one.
Mon
Tue
Wed
Thu
Fri
Sat
Sun
01
2
3
4
5
6
7
8
9
10
11
12
13
14
15
16
17
18
19
20
21
22
23
24
25
26
27
28
29
30
31
Venue details
David Trent has a computer and a projector, which he uses to make phenomenal comedy. He was in the 2011 Barbican New Act of the Year final. He did not win it. This is his Edinburgh debut. It will blow your mind. He wrote this himself. 'His use of video, animation and repetition is brilliant and unique ... genuine originality' (Chortle.co.uk). A creator of bold, category-defying comedy' (Stage). 'Progressive, playful and painfully funny. I'd happily watch him for two hours on his own' (Latest 7). 'His performances are intense, fearless and original (LondonIsFunny.com).
Share this show
Reviews
Press coverage
Full press release
David Trent is a phenomenon. Making his debut at this year's Edinburgh Festival with his show Spontaneous Comedian, he uses both computer and a projector to make phenomenal comedy. Wielding a unique mix of music, video, animation & comedy, he is unlike anything you've ever seen at the Fringe or indeed anywhere else. His unique show defies categorization - it simply demands that you see it to understand what everyone else is raving about.
Spontaneous Comedian is David Trent's first ever Edinburgh show. Created on a one thousand five hundred pound Dell Studio 17 computer, the show contains 153 slides and consists of 16 high quality routines to be performed in the following order:
Introduction (1 movie), Spontaneity (3 slides) Don't Try This At Home (3 slides, 1 movie), Sex Face (4 slides, 2 movies), The Next Generation (14 slides, 8 movies, 2 pieces of music), This Cable (2 slides, 1 movie), Hoppipollistic Alexithymia (4 slides, 2 pieces of music, 1 movie), A Tweet (1 animation, 2 photos, 2 pieces of music), Ninety Nine (12 slides, 1 animation, 2 movies), A Modern Classic (3 slides, 2 movies) A Heroic Act (10 slides, 1 animation, 5 movies), One Armed Scissor (28 slides, 19 movies), A Cup Of Tea (4 slides, 3 movies), Good Value (5 slides, 5 animations), Excess Baggage (8 slides, 2 Radio Clips, 4 Animations), Seeing Clearly (3 slides, 2 movies), Best Film Ever (10 slides, 7 movies, 1 callback) Time To Go (2 slides, one sound file)
He was in the 2011 Barbican New Act of the Year final. He did not win it. David Trent has lost every major comedy competition in the first round apart from the 2008 North Essex comedian of the year competition where he was a finalist. David's progress in this competition was somewhat hindered by his decision to watch The Orphanage" at the Duke Of York cinema in Brighton on the night of the final.
A popular circuit comedian since 2006 - this debut show will be certainly worth the wait.
---
Tweets by mistertrent