Clovis Van Darkh
The Mysterious World of Clovis Van Darkhelm
Storytelling
7:35pm (1 hour)
4-25 Aug 2012
Free
This is a 2012 show that has now finished.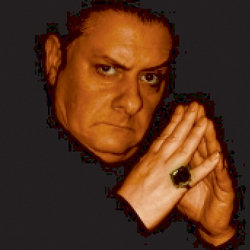 Show details
Storytelling starring Mike Hayley performed on the following days in August 2012...
Mon
Tue
Wed
Thu
Fri
Sat
Sun
01
2
3
4
5
6
7
8
9
10
11
12
13
14
15
16
17
18
19
20
21
22
23
24
25
26
27
28
29
30
31
Venue details
The Mysterious World of Clovis Van Darkhelm. Amateur anthropologist, paranormal investigator, collector of magical ephemera, and the man who has taken bothering indigenous peoples whilst wearing black to new levels, unleashes his 2012 lecture tour. Ancient curses, Egyptian gods and a real account of vampires will all cram into a small club on Lothian Street! Will there be room for you? Will there be room for doubt? In association with the Comedians' Theatre Company. Written and performed by Mike Hayley. Directed by Maggie Inchley. 'Distilled Hancock gold' (Festmag.co.uk).
Share this show
Reviews
Visitor reviews

Ann Coburn
Clovis is a brilliant creation - the laughs (and there are many) all spring from his misguided belief in his status as a serious anthropologist and paranormal investigator. The ship's log story is a classic! But Mike Hayley also makes space for moments of pathos and real poignancy - the 'new' Wilfred Owen poem leaves a lump in the throat. Layered, intelligent and multi-faceted - my kind of comedy. Five stars.