Chris McCausland
Chris McCausland: Not Blind Enough
Stand-up
4:30pm (1 hour)
1-13 & 15-26 Aug 2012
11 - 12
This is a 2012 show that has now finished.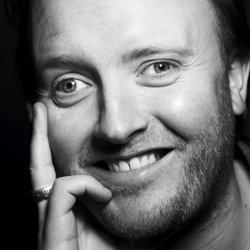 Show details
Stand-up show starring Chris McCausland performed on the following days in August 2012...
Mon
Tue
Wed
Thu
Fri
Sat
Sun
01
2
3
4
5
6
7
8
9
10
11
12
13
14
15
16
17
18
19
20
21
22
23
24
25
26
27
28
29
30
31
Venue details
Back for a fourth consecutive year, McCausland confronts the stereotype he's worked hard to avoid - kicking it squarely in the... 'Balls-Out Funny!' **** (Chortle.co.uk). 'Truly Brilliant' **** (ThreeWeeks). Nominated Best New Show at Dave's Leicester Comedy Festival, Chris examines his own attitude towards comedy and life, his natural aversion to box ticking and unleashes a hysterical no-holds barred attack on the unthinkable! 'A must-see!' (Sunday Times). 'Always excellent' (Times).'A natural- like fellow Scouser John Bishop' ***** (TheCultureVulture.co.uk). 'His language is a treat' **** (Hairline.org.uk).'McCausland will be huge!' ***** (One4Review.com).
Share this show
Reviews
Press coverage
Full press release
The Paralympics doesn't do what it says on the tin. It promotes negative expectations of public and media disability. True equality should come from competing in the mainstream not simply doing disabled versions of normal things." Chris McCausland

Nominated for 'Best new show' at this year's Leicester Comedy Festival, Chris McCausland responds to the criticism that he's 'not being blind enough' and that his comedy should talk more about him being blind. He points the finger very squarely at those who sew the seeds of these expectations including those that compete in the Paralympics, something that most would assume sends out a very positive message but in Chris' opinion actually achieves the opposite.
"This promotes the idea that disabled people should be doing disabled things." he says "and usually at a significantly substandard level to the norm. Why the hell would anybody want to be the best one-armed archer? Why would anybody strive to be the best person at something but out of a group of people that just aren't that good at it? Find something you can do properly and get off my TV!"
Chris, who won the C4 Creative Diversity Award, and whose Edinburgh show was subsequently supported by the channel, has appeared on BBC Miranda Hart's Unwrapped, Comedy Central at The Comedy Store (3 series), BBC Radio 4 Extra's Comedy On The Boat and he's just recorded Celebrity Deal Or No Deal with Jimmy Carr.
---
Tweets by chrismccausland