Chris Brain
Chris Brain: A Better Place
Stand-up
5:45pm (1 hour)
1-13, 15-20 & 22-27 Aug 2012
7.50 - 9.50
This is a 2012 show that has now finished.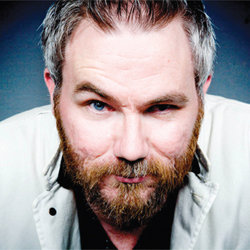 Show details
Stand-up show starring Chris Brain performed on the following days in August 2012...
Mon
Tue
Wed
Thu
Fri
Sat
Sun
01
2
3
4
5
6
7
8
9
10
11
12
13
14
15
16
17
18
19
20
21
22
23
24
25
26
27
28
29
30
31
Venue details
Winner NZ Billy T Award for Comedy 2009. Booze, drugs, gambling, exercise, food, you name it, I tried it in excess. Who becomes a goth just to feel superior to the rest of the group? Me! I am the son of a used car salesman and a hairdresser from Christchurch, NZ. Really, the only way should have been up from there. Join me for a brief, and funny lesson on how not to self medicate oneself normal. 'Wry turns of ironic observation and rug-pulling one-liners' (Theatrereview.org.nz).
Share this show
Reviews
Full press release
Chris Brain has spent 20 years self medicating with booze, drugs, gambling and even exercise, all taken in excess, all in an attempt to self medicate himself through depression to being "normal".
Award winning shows outlining the performers internal battles with depression and demons are not new to Edinburgh and Chris Brain is unapologetic in his addiction. Rather than wallow on the dark side he takes us on a delicious romp through the frankly moronic things he has done on this pathway to destruction. Rather than a cautionary tale, this is a truly hilarious account of how far one man will go to feel normal.
There is no salvation, no moral message, rather a heart warming and side splittingly funny story of a man on a journey from chaos to acceptance of his demons.
Chris has always been the dark horse of comedy, the comics comic, but just as likely to melt down and turn on an audience to incite a reaction. A Better Place was a show that finally came to terms with this and he was awarded the prestigious New Zealand Billy T Award for Comedy.
Chris went on to support Rhys Darby on tour in Australia and NZ, write for TV, become obsessed with twitter and find solutions to self medicating. He is still looking.
Awesomeness Comedy are Rhys Darby and wife Rosie Carnahan. For four years they have focussed on bringing the best of the world's stage to NZ, now they are flipping it over and bringing quite simply the best in Kiwi comedy to the Edinburgh Fringe. Team Darby cherry pick exceptional shows that make them laugh, which they think the world should see.
---
Tweets by Chris_Brain