Call Me!
Call Me!
Play
10:10pm (70 mins)
2-17, 19-24 & 26 Aug 2012
7.50
This is a 2012 show that has now finished.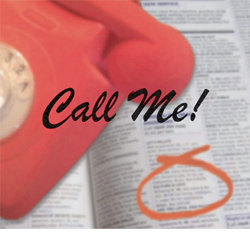 Mon
Tue
Wed
Thu
Fri
Sat
Sun
01
2
3
4
5
6
7
8
9
10
11
12
13
14
15
16
17
18
19
20
21
22
23
24
25
26
27
28
29
30
31
Venue details
Come rejoice with us at the ridiculousness of love! Gorge on hippie love therapist Sandy's speciality tartlets as you witness cringe-worthy tales of dating woe and relationship calamities. 'Hugely funny' (Britishtheatreguide.info). 'Perfection' (Manchestersalon.org). 'Hilarious' (WhatsOnStage.com). Fed up with their bizarre relationships, three women visit therapist Sandy. This proves a rollercoaster of humiliation, hilarity and, unexpectedly, humility. Meanwhile, Jenny and Mike are the antithesis of the conventional relationship. Will anyone succeed in banishing the rough from the smooth? Not if Sandy has anything to do with it!
Share this show
Full press release
By The Slice Theatre Company Presents Call Me! Sponsored by www.TheatreLoverDating.co.uk
Writing and producing together for the first time, sisters Sarah Adams and Becky Adams are heading to the Edinburgh Festival Fringe this year with their play, dating comedy Call Me!, which received rave reviews and a sell-out run in Manchester last year.
Inspired by the likes of Victoria Wood and Dawn French, writer Sarah Adams has formed new theatre company By The Slice to produce a cringe-worthy yet affectionate romantic comedy alongside her film producer sister Becky. By The Slice invites the audience to come and rejoice with them at the ridiculousness of love and dating! What better way to get over your latest dating disaster than to be able to laugh at someone else's ludicrous misfortunes? Yet on this rollercoaster of humiliation and hilarity, we also unexpectedly find a new humility for love.
Taking all of the available Manchester cast with them, By The Slice will also be introducing some new faces as well as new-to-theatre director Dan Wilson whose credits include directing Sir Ian McKellen and Status Quo in Coronation Street, EastEnders, BBC's Land Girls and 32 Brinkburn Street, and feature film The Roundabout.
Sarah is joined in By The Slice by her sister, Producer Becky Adams. "Of course initially I was introduced to Call Me! because it's my sister that has written it, but it was clear immediately how funny, engaging and close-to-the-bone the script was, and how well it connected with audiences, and so I quickly got my company Reelscape Productions involved!" says Becky.
Call Me! follows three women on an exposing comedy journey through their all too familiar relationship mishaps. Fed up with their bizarre relationships, our three lead characters decide to visit hippie love therapist Sandy Morris - founder of the Love Yourself To A Love Life Worth Loving movement. This proves an adventure in itself. Meanwhile, the antithesis of the conventional relationship plays out between confident Jenny and clumsy Mike. Will they become the success story of the unexpected? Will any of our characters succeed in banishing the rough from the smooth? Not if Sandy has anything to do with it!
Praise for Call Me!
"The whole production was one of total, seamless perfection, resulting in a laugh-out-load comedy..." Manchester Salon
"Hugely funny... By The Slice Theatre Company are well worth tasting." British Theatre Guide
"Audiences looking for a warm and very amusing play are in for a treat!" What's On Stage
---
Credits
Tweets by Call_Me_Play