Billy The Mime
Billy The Mime
Satire
6:15pm (1 hour)
2-13 & 15-26 Aug 2012
6 - 8
This is a 2012 show that has now finished.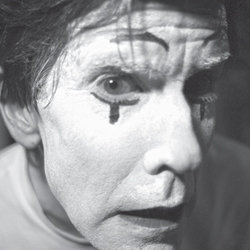 Show details
Satire starring Steven Banks performed on the following days in August 2012...
Mon
Tue
Wed
Thu
Fri
Sat
Sun
01
2
3
4
5
6
7
8
9
10
11
12
13
14
15
16
17
18
19
20
21
22
23
24
25
26
27
28
29
30
31
Venue details
'Politically incorrect! Uncomfortably funny! Twisted! Chilling!' (New York Times). 'A one-man variety show depicting the most taboo and controversial stories of our culture. It absolutely should not be missed!' (NewYorkTheater.com). Routines include: The Priest & The Altar Boy, Anna Nicole, The Abortion, Life & Death of Princess Diana, A Night in A Gay Bar 1979, The Crack Whore, The African American Experience, The Navy Seal & Osama Bin Laden. Not for children or the easily offended. 'Shockingly good! Throw away any preconceptions you have about mimes because this is like nothing you've ever imagined!' (New West Albuquerque).
Share this show
Reviews
Press coverage
Full press release
Billy The Mime takes to the stage at the Edinburgh Festival Fringe for the first time this August. Performing at the Just The Tonic Caves throughout the festival, Billy is set to shock the audience with his hilarious controversial stories told through the unlikely art of mime with such routines as The Priest & The Altar Boy, The African American Experience, The Navy Seal & Osama Bin Laden, David Carradine's Last Night, A Gay Bar in San Francisco: 1979, A Day Called 9/11, Anna Nicole: A Life, Whitney Houston's Last Bath and The Abortion.
After taking master classes with Marcel Marceau and learning further circus skills at Ringling Brother's Barnum & Bailey's Clown College, Billy has gone on to rejuvenate an art form that has previously been justly ridiculed and restored its ability to entertain, amuse, shock and move an audience.
Billy first garnered attention with his show stopping appearance in the hit documentary The Aristocrats. His television appearances include The Jimmy Kimmel Show, Penn & Teller's Bullshit! and The Green Room with Paul Provenza (Showtime).
With his unique take on comedy played within this distinctive genre, he can play to audiences all over the world. His live appearances at renowned festivals and theatres include the Montreal Just For Laughs Comedy Festival, Upright Citizens Brigade Theatre in L.A. and NYC, Risadaria Comedy Festival in Brazil, The Aspen Comedy Festival, Largo in L.A., The Lake Shore Theatre and Mayne Stage in Chicago, The Revolutions International Theatre Festival in New Mexico and performed his critically acclaimed seven week run at The Sacred Fools Theatre in L.A. Billy has also appeared at The New York International Fringe Festival garnering rave reviews and sold-out shows. He presented his show, American Love Sex Death, in a six-week engagement at The Flea Theatre in New York.
---
Tweets by BillyTheMan