Best Served Cold
Best Served Cold
Theatre
4:45pm (40 mins)
13-18 Aug 2012
7
This is a 2012 show that has now finished.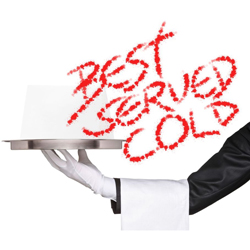 Show details
Theatre performed on the following days in August 2012...
Mon
Tue
Wed
Thu
Fri
Sat
Sun
01
2
3
4
5
6
7
8
9
10
11
12
13
14
15
16
17
18
19
20
21
22
23
24
25
26
27
28
29
30
31
Venue details
Thirteen young women put on a fast-paced, original and witty drama. Influenced by Hamilton's Rope, Best Served Cold will not fail to shock, intrigue and excite its audience with its amusing dialogue and eclectic mix of personalities. The rich plot centres around a university reunion sparked by jealousy, revenge and reminiscing over unforgettable old times that, for one character in particular, cannot be overlooked. Written by cast member Emer Dineen and directed and produced by the whole team, this show is full of fresh new talent that promises to be a truly entertaining experience.
Share this show
Visitor reviews

Lizzie Mackey
A superb young cast skilfully bring this original, funny entertaining drama to life. Do not miss it !