Bad Bread
Bad Bread: 2012 - The Survival Guide
Sketch show
5:20pm (1 hour)
2-13 & 15-26 Aug 2012
9.50 - 10.50
This is a 2012 show that has now finished.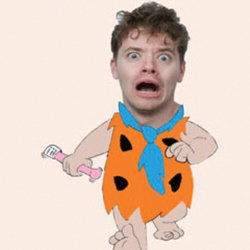 Mon
Tue
Wed
Thu
Fri
Sat
Sun
01
2
3
4
5
6
7
8
9
10
11
12
13
14
15
16
17
18
19
20
21
22
23
24
25
26
27
28
29
30
31
Venue details
2012 - the Mayans predicted the end of the world, but sketch trio Bad Bread are too young to die. Join them in their bunker (theatre) where they attempt to cheat death, deliver plenty of laughs and answer all of your post-apocalyptic questions. Ever wondered if... the apocalypse would affect Thomas the Tank Engine's timetable? Or if mushroom clouds count as one of your five a day? 'I'm not sure I'd kill for a ticket but I'd certainly maim for one' (ThreeWeeks). 'Wonderfully funny, excellent comedians' (Comedy.co.uk). 'A must-see!' (FreshAir.org.uk).
Share this show
Full press release
2012. The year of the Olympics and the Diamond Jubilee - but more importantly the year of the END OF THE WORLD! Apocalypse can take many forms so in preparation Bad Bread have produced a fool proof guide to surviving whatever the Mayans had in mind. So if you - like Bad Bread - are far too young to die, join them in their bunker (black box theatre in the bowels of the Underbelly) where they intend to cheat death - or at the very least go out laughing.
Bad Bread are Tom Goble (FHM's Stand-up Hero regional finalist 2011 and founder member of Bad Bread) and Anthony Craven (other founder member of Bad Bread), joined this year by the inimitable comic talents of Brydie Lee Kennedy (Brydie is well known in the Australian improvisation scene and first burst onto the Edinburgh circuit in hugely successful Princess Cabaret in 2009 Scotsman).
The Survival Guide follows 2011's sell out run TV Times and marks Bad Bread's fourth consecutive year on the Fringe.
Credits