Back To School
Back To School
Comedy
4pm (90 mins)
1-5, 7-12, 14-19 & 21-26 Aug 2012
10 - 15
This is a 2012 show that has now finished.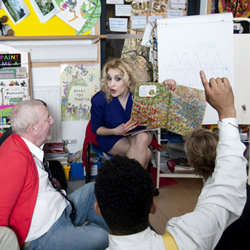 Show details
Comedy starring Clementine Wade performed on the following days in August 2012...
Times vary. 4pm on Tuesday, Wednesday and Thursday and 1.30pm and 4pm on Friday, Saturday and Sunday. On the 7th tickets are two for one.
Mon
Tue
Wed
Thu
Fri
Sat
Sun
01
2
3
4
5
6
7
8
9
10
11
12
13
14
15
16
17
18
19
20
21
22
23
24
25
26
27
28
29
30
31
Venue details
Relive your student days and return to the '80s in this hotly anticipated, site-specific, interactive comedy. It's a new term as the school opens its doors and welcomes you inside. As enrolling students, you can participate in life drawing and dissection classes, nosh on nostalgic school dinners, run free in the playground and remember those amusingly agonising assemblies, minus the Latin incantation. Ferried between a bonkers cast of teachers, janitors and even a resurrected school hamster, this is a rare chance to reminisce on the good ol' days and even learn a thing or two!
Share this show
Reviews
Full press release
Back To School is a site-specific, interactive experience where audience members are cast as students, premiering at the Pleasance for this year's Edinburgh Festival. Part-comedy, part-social experiment, this new show from Britain's modern day Mary Poppins in collaboration with playwright Ranjit Bolt (among others) promises to delight and amuse.
Mixing comedy and masterclass, 'pupils' attending 'Saint Dumbiedykes' will study insect dissection with one of the country's most renowned entomologists, take sex education classes with flirtation expert Tracey Cox, hear their graduation speech given by Jonathan Ross as well as enjoying irreverent takes on the school assembly, school dinners (make sure to eat your greens) and the end of term disco. With a a resurrected school hamster and a mystery celebrity playing the school bell, Back To School promises to be a rollicking good show, full of Fringe fun, dark surprises and extra-curricular chaos.
The show is the brainchild of 'Super Tutor' and comedian Clementine Wade (founder of Arty Kamikaze productions). Wade commented; "Whether we loved or loathed school, we've all been through it! The nightmares, the celebrations, the trials and tribulations, all make up its theatre. Using this well-known format, normally the exclusive privilege of the young, the audience can relax from the responsibilities of adult life, enjoy the luxury of learning, whilst potentially exorcising a few demons."
Developed in response to the renowned psychological experiments of Zimbardo and Milgram, Back To School and Back To School Disco are new theatrical experiences that play on the social construct of the school. Arty Kamikaze aim to amuse and enliven, giving the audience another chance to be big kids and mess around in assembly, spicing up the educational debate and proving it is never too old to be young and never too late to learn.
Back To School is being showcased at the Braidwood Community Centre which currently faces closure. Arty Kamikaze chose to work in partnership with the Centre to raise its profile and support its work as a hub for the Holyrood community. Throughout August, the performance team will be running free, daily community events, from storytelling to CV surgeries, for local Edinburgh residents to raise funds to regenerate the Centre.