Angus & Cameron
Angus and Cameron: Village Idiots - Free
Sketch show
4:50pm (1 hour)
3-14 Aug 2012
Free
This is a 2012 show that has now finished.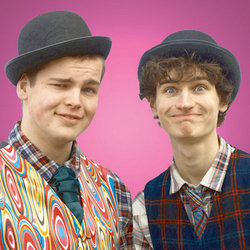 Mon
Tue
Wed
Thu
Fri
Sat
Sun
01
2
3
4
5
6
7
8
9
10
11
12
13
14
15
16
17
18
19
20
21
22
23
24
25
26
27
28
29
30
31
Venue details
Angus and Cameron, two teenage village 'idyots' present a seriously silly sketch show. These two men, tall men ... sorry, that's two mental men, bring you a family show filled to the brim with jokes, nerdiness, sketches and a pantomime cow. Described as 'punbelievable' by their friends and 'up for adoption' by their parents.
Share this show
Reviews
Full press release
A Level Students Fool It Up For The Fringe
Leaving the world of pantomime behind them, Angus and Cameron, village idiots, and their cow, Simon, travel to Edinburgh for their debut comedy show, aimed at all the family.
These two young men have decided to leave their cosy country village of Aynho, nestled in the heart of England, and venture north to Edinburgh where they will be performing for 12 days with the Laughing Horse Free Festival.
Having written the show while studying for their A levels in Physics and Maths, Angus and Cameron feel the occupation of "idioting" needs an intellectual revamp, with comedy exploring religion, science and geography all making its way into their performance.
The show, featuring sketches, jokes and plenty of audience interaction, will be advertised by Angus, Cameron and Simon parading down the Royal Mile, a spectacle not to be missed.
---
Credits
Tweets by angusandcameron