When Women Wee
When Women Wee
Play
11pm (1 hour)
4-14 & 16-28 Aug 2011
10.50
This is a 2011 show that has now finished.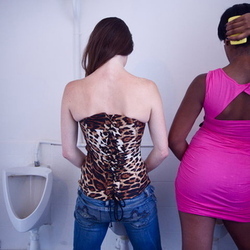 Mon
Tue
Wed
Thu
Fri
Sat
Sun
03
4
5
6
7
8
9
10
11
12
13
14
15
16
17
18
19
20
21
22
23
24
25
26
27
28
29
30
31
1
2
Venue details
Daring, provocative comedy. Welcome to the unedited, uninhibited thoughts and behaviours that happen inside the female mind and public toilet. We voyeur at the lives of a multitude of women in all stages of love, life and intoxication. Uncompromising, unapologetic, with genuine conversations included, we bear witness to the nightly break ups, breakdowns and breakthroughs that all happen when women wee... 'Therapeutic' (Woman). 'I can't look at women the same again' (Man).
Share this show
Reviews
Full press release
The all female play When Women Wee has joined forces with the female urinating device; Shewee. Can you think of a more aptly matched team?! When Women Wee is a comedy set in the private space of a female public toilet in a nightclub. The new comedy offers a voyeuristic journey into the private lives of different types of women: The young, the old, the divorced, the drunk and the depressed.
Shewee are proud sponsors of When Women Wee for their debut at the Edinburgh Fringe Festival this summer. If you don't already know, Shewee is the award winning portable urinating device that allows women to urinate whilst standing and without removing clothes. Shewee is ideal for travelling abroad, festivals, long car journeys and any kind of outdoor pursuit where toilet facilities are absent or less than desirable. Shewee is easy to use, discreet, reusable, lightweight and it fits in a pocket!
Both Dirty Stop-Out (creators of When Women Wee) and Shewee are passionate about getting women to 'Stand Up and Take Control' as the Shewee strap line states. Formed in August 2010, Dirty Stop-Out is the creation of Playwright Rachel Hirons alongside the award-winning Director, Stef O'Driscoll. They are two females who take an active role in gender equality and portrayal. Ask Dirty Stop-Out if they're feminists? 'We much prefer the term 'equalist' explains Rachel.
With a fantastic cast the When Women Wee play was performed at the Camden Fringe Festival and The Lyric in Hammersmith. The response was overwhelming and was described as 'Therapeutic' and 'Hilarious' by people of all walks, genders and ages. 'I can't look at women the same again' said one man as he left the theatre!
Join the cast as they follow a familiar group of girls through the trials and tribulations of friendship, alcohol, men and menstruation on a typical Saturday night. Is fanny spray taking femininity too far? Are 'quiet pooing in public' rituals normal? Do you have any toilet roll in there? ...Is she OK? Watch the girls try to answer these questions and many more.
There will be a chance to win a Shewee at the show as they are thrown out into the audience! If you're not one of the lucky ones who catch a Shewee then there will be a chance to buy one at the end of the evening.
About Dirty Stop-Out

Dirty Stop-Out are an exciting, daring new theatre company based in London, UK. They create work that explores, questions and portrays the hidden depths of human nature and behaviour. The vanity, the jealousy, the weaknesses and habits only carried out in the privacy of our bedrooms, bathrooms and heads.
When Women Wee is their first play aimed to diffuse the misconceptions between the genders and ease the pressures that society can create resulting in a 'Them and Us' mentality. Dirty Stop-Out aim to entertain and disarm, re-assure and ultimately bring people together through the arts.
Credits
Visitor reviews

minilh1
Very funny and true to life. Brilliant acting