The Two Wrongies
The Two Wrongies
Variety / Sketch Show
10:30pm (1 hour)
3-14, 16-21, 23-29 Aug 2011
10
This is a 2011 show that has now finished.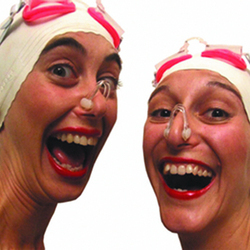 Mon
Tue
Wed
Thu
Fri
Sat
Sun
1
2
3
4
5
6
7
8
9
10
11
12
13
14
15
16
17
18
19
20
21
22
23
24
25
26
27
28
29
30
31
Venue details
Strap yourself in and prepare for a right royal wronging as you enter the world of The Two Wrongies, the double act who dare to do the dirty! It's comedy, it's dance and it's sordid synchronized swimming. It's so wrong it's right. Additional direction by: Kim Noble, Stuart Silver and Petra Massey (Spymonkey). 'Utterly filthy and totally shameless ... unforgettably brilliant' (BBC Radio).
Share this page
Reviews
Press coverage
Full press release
Do two wrongs really make a right? They do in the case of The Two Wrongies who bring their own extraordinary world to the Edinburgh Festival for the first time with their hour long show World Of Wrong.
World of Wrong is a risqué dance-comedy act that celebrates the glitz and glamour of show time while exploring the gleefully inappropriate truths that sometimes lurk beyond the spotlight. The Two Wrongies are the double act who dares to do the dirty! It's bold, it's brazen, it's tongue in cheek and it's daring. This show is totally unique!
With additional direction by Kim Noble, Stuart Silver & Petra Massey (Spymonkey), the strange and chaotic world of The Two Wrongies is presented in a sketch show format using live performance, film, and music. Produced by The Basement, Brighton - the content and form of the work invites audiences into a place where social taboo's and the identity of the two female performers are explored through traditional forms of entertainment.
Elements of observational, situational and character based comedy are delivered through physical movement, and underpinned by a subtle use of text. The World of Wrong is an enthralling and thought provoking show, interspersed with moments that are poignant and daring. With celebratory nudity, an enthusiastic appreciation of the 'lunge' plus parodies of female sexual representation and aggressive sexual behavior, The Two Wrongies at times question and purposefully poke fun at how female relationships and performers are viewed, experienced and at times eroticised.
The Two Wrongies create low-fi 'home movies' that act as trailers for their show. The videos present moments in the daily lives of The Two Wrongies, giving the audience an insight into their 'offstage' antics. These video artworks serve to raise interest in the characters before the live performance itself, and audiences are invited to take part and post their own video responses.
The Two Wrongies are:
Avis Cockbill is co-artistic director of The Two Wrongies and a freelance performer/choreographer. She trained in dance at Edinburgh's Telford College (96-99) and Brighton University (99 - 02). This study of different creative processes has informed and structured her approach to making performance work. In 1998 she was recognised by the Scottish Arts Council for her student choreography and she completed The Masters Season in conjunction with Nightingale Theatre, Brighton. As well as The Two Wrongies, Avis currently performs as a topiary teapot in Dot Comedy's dotMAZE Get Lost and as sinister incarnations of animals in Junk TV's 6-part film and live performance hybrid The Flophouse. She has worked as part of the creative team in touring shows, monthly events, street theatre shows and installations. Past performances and collaborations include Voodoo Vaudeville, The Urban Playground and Gravity Style, Happy Belated Birthday Mr Bowie and Mr Bond, The Society of Wonders and Stepback project. As a choreographer and performer Avis is inspired by the fantastical realities that can be created within the medium of film. This has led her to work with award-winning film directors Magali Charrier, Nic Kemp and Tony Johnston of (a dog barks) productions and Simon Wilkinson of Junk TV. Within these films, movement is developed through character representation, and post-production work has enriched the choreography with animation and time manipulation.
Janine Fletcher is co-artistic director of The Two Wrongies and a freelance choreographer/performer. Janine trained at The Northern School of Contemporary Dance (98-99), then undertook a BA (hons) in Dance and Visual Art led by Professor Liz Aggiss, at The University of Brighton (99-02). This training has equipped her with a ferocious love of disciplined movement, comedic detail and the desire to create work informed by a variety of performance languages and creative processes. As a solo practitioner, Janine uses a myriad of genres in her work; rolling them around, spitting them out and then crushing them between her scrawny fingers. Her work has been shown at the National Review of Live Art (2005), Visions Festival of International Performance (03-04) and Navigate Live Art Festival (2005). As well as The Two Wrongies, Janine has immersed herself into many projects (usually ending up stained, dirty and slightly bruised), building up a wealth of eclectic experience. Past performances and collaborations include: Voodoo Vaudeville, Stepback, The Society of Wonders, The Ornate Johnsons, Joanna Neary and Zu Aerial Dance. In 2008 Janine became part of Prodigal Theatre's The Urban Playground team, working collaboratively with Gravity Style to create Parkour-inspired physical theatre and dance. Their 2008 show Fusion performed to over 40,000 people in 13 different cities across the UK and Northern Ireland, Eire, Spain and Botswana. In 2009 Janine choreographed Bicycle Ballet's The Dance of Cycling - a 20 minute outsdoor show using dance, comedy, physical theatre and bicycles. Janine has also collaborated as a performer / choreographer with award winning filmmakers Nerea Martinez de Lecea and Junk TV's Simon Wilkinson. Recently she has been working as tap choreographer for Sid Lester's Big Night In, written and performed by Sue MacLaine.
---
@thetwowrongies
Loading tweets...