The Behemoth
John-Luke Roberts and Nadia Kamil: The Behemoth
Sketch show / Stand-up
4:45pm (55 mins)
3-15 & 17-29 Aug 2011
10
This is a 2011 show that has now finished.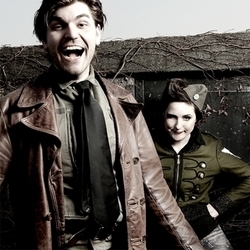 Mon
Tue
Wed
Thu
Fri
Sat
Sun
03
4
5
6
7
8
9
10
11
12
13
14
15
16
17
18
19
20
21
22
23
24
25
26
27
28
29
30
31
1
2
Venue details
Massive sketch comedy, two normal-sized people. John-Luke Roberts 'Distracts You From A Murder... Brilliant solo debut' (Independent), E4, BBC3, R4's The News Quiz and Nadia Kamil (R4, Channel 4, BBC3) return to the Festival with their cult sketch comedy show (Comedy of the Year, List 2008). 'Like being tag-teamed by the comedy equivalent of two world class pro wrestlers' (Fest), **** (List), **** (Time Out), ** ** (Herald), **** (Metro), Pick of the Week (Guardian), Critics choice (Sunday Times).
Share this show
Reviews
Press coverage
Full press release
John-Luke Roberts and Nadia Kamil are The Behemoth, and they bring back their ingenious, intellectual, hilarious material that made them a smash-hit during their three previous runs at the Fringe. They're armed with a brand new show and ready to reclaim their mantle as the number one duo at the Edinburgh Fringe. Joyful surrealism and knockabout comedy at its best.
Life is massive. The handsome, debonair pair are enormous average sized people. Returning to the festival in traditional style riding bareback atop their bloody great big Behemoth, they will cram the humungousness of life into a small room underground in the Pleasance.
The pair took the circuit by storm with their striking material and off-the-cuff delivery, with Daniel Kitson describing their 2006 show, Staggered Spaces, as his "favourite thing" of the Fringe. Their 2007 show, The Gently Progressive Behemoth, was nominated for a Chortle Award for Innovation, and their 2008 effort, The Wizecrackin Mindsqueezin Behemoth was one of The List's Top 20 unmissable shows.
The duo are established in their own right. John-Luke supported Josie Long on her nationwide tour in 2009, and his debut solo show as part of The Invisible Dot's programme, John-Luke Roberts Distracts You From a Murder, was a critical hit at the Edinburgh Fringe last year. He boasts a host of radio credits including Spats for BBC Radio 7, which he wrote and presented, and he writes regularly for shows such as The News Quiz and The Now Show. He is also an accomplished theatre writer and trained on The Royal Court Young Writer's Programme.
This year, he set up The Alternative Comedy Memorial Society with The Penny Dreadfuls' Thom Tuck - a fortnightly comedy show that is "genuinely alternative, and properly comedic" (The Guardian). Nadia is a founder member, and regular performer at the club.
Nadia also wrote for Spats, performed in Channel 4's sketch offering Happy Finish and has numerous screen credits as an actress including Two Pints of Lager and a Packet of Crisps. Her talents have also been employed for radio, including shows such as BBC Radio 4's It's David O'Doherty Time and Look Away Now, and BBC Radio Wales' What's The Story.
Credits