The Baby Diary
The Baby Diary
Comedy
4pm (1 hour)
3-14, 16-28 Aug 2011
9.50
This is a 2011 show that has now finished.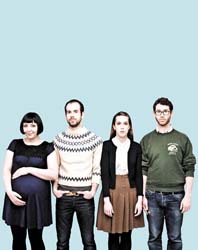 Mon
Tue
Wed
Thu
Fri
Sat
Sun
1
2
3
4
5
6
7
8
9
10
11
12
13
14
15
16
17
18
19
20
21
22
23
24
25
26
27
28
29
30
31
Venue details
Jenny is pregnant. Simon is quite lonely. Mike is a bit angry. Sandra is infertile. A new comic play by Emily Watson Howes (writer of BBC Radio 4's The Ladies). First seen on BBC comedy online, directed by John Morton (Twenty Twelve, People Like Us). **** (Scotsman), **** (Metro), **** (Chortle.co.uk), ***** (ThreeWeeks).
Share this page
Reviews
Full press release
This summer, Emily Watson Howes (The Umbrella Birds, BBC Radio 4's The Ladies) brings her latest comedy play The Baby Diary to the Edinburgh Festival Fringe. Emily is known for being a talented writer, theatre director and performer. As the founder and sole writer of The Umbrella Birds - an all female sketch group - she penned three sell out Edinburgh shows; WC, Gym and Sketches in a Shop Changing Room as well as two series of the group's BBC Radio 4 hit The Ladies.
Directed by Delyth Jones, The Baby Diary is a four hander comedy play about modern parenthood that began life at BBC Online. With a mixture of film and live action, The Baby Diary is a comedy about anticipation and a darkly humorous satire on the hysteria of first time parenthood.
Jenny (Emily Watson Howes) thought she was barren. She thought she couldn't even grow a pot plant, let alone a baby. She has a very poor record with indoor herbs. And the state of the garden at Mike's redundancy fundraiser said it all. But after four years of trying to conceive, she's pregnant.
Mike is going to film the pregnancy. He's hoping the film will get him out of the redundancy rut. In the meantime he'll post bits online and see if he can get some 'likes' on facebook. He just needs to get a bit of momentum behind it. And behind him.
Emily Watson Howes is the Artistic Director of triple award-nominated storytelling company You Need Me, who are resident at the Corn Exchange, Newbury. Emily has directed How It Ended, Certain Dark Things and Death Song, all of which have toured nationally and has featured in BBC Radio 4's The Nearside and Tim Minchin's Rocking On for BBC Radio 2. In September she will direct Coasting by Natalie McGrath for Bristol Old Vic.