Stand Up For Freedom
Stand Up For Freedom
Stand-up
9:30pm (150 mins)
17 Aug 2011
18
This is a 2011 show that has now finished.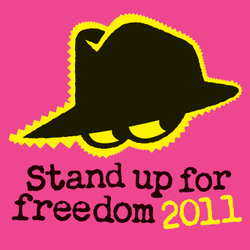 Mon
Tue
Wed
Thu
Fri
Sat
Sun
03
4
5
6
7
8
9
10
11
12
13
14
15
16
17
18
19
20
21
22
23
24
25
26
27
28
29
30
31
1
2
Venue details
For one night only, the producers of Amnesty International's legendary Secret Policeman's Ball bring the finest stand-up in town to the EICC at Stand Up for Freedom. A sell-out show for the last 14 years - if you see just one show this summer make it Stand Up For Freedom! Acts already confirmed for this year include Holly Walsh, Mark Watson and Ed Byrne.
Share this show
Press coverage
Full press release
The line-up for this gig includes Mark Watson, Ed Byrne, Russell Kane (Fosters' Best Comedy winner 2010), Jenny Eclair, David O'Doherty, Holly Walsh, Roisin Conaty (Foster's Best Newcomer 2010) and Michael Winslow, the "Man of 10,000 sound effects" star of the Police Academy films.
The show will be compered by Scottish comedy favourite Fred MacAulay and Charlie Baker (winner of Lets Dance for Comic Relief 2011). Yet more top comedy acts are still to be announced ahead of the show.
Amnesty International marks 50 years of campaigning for freedom of expression this year. The world's biggest human rights organisation has always focused on the Edinburgh festival as the ideal place to promote free speech and campaign for those whose rights are denied. This year it's more relevant than ever, as the world has witnessed peaceful protesters in the Middle East and North Africa taking to the streets and demanding their basic rights.
Amnesty will be launching a new campaign calling for freedom of expression in the Middle East and North Africa, including a new appeal for people in the region whose rights are being abused. Amnesty campaigners will be out on the streets of Edinburgh getting festival-goers involved.
Amnesty's famed Stand Up For Freedom comedy show, on 17th August at 9.30pm at the EICC's Venue 150, is always one of the best line-ups of the Fringe. Tickets are available now from www.venue150.com
Amnesty International Scotland Director John Watson said:
"The Edinburgh festival is a true celebration of freedom of expression. Amnesty has been defending this right for fifty years now, and that work is as important today as it was in 1961. Recent events in places like Egypt, Libya and Syria have shown that there's still plenty of work to be done. Peaceful protesters who took to the streets to demand their rights have been met with tear gas, batons and bullets. Others are still languishing in jail."
"This year in Edinburgh we'll be hosting one of the Fringe's best comedy shows, refereeing a football match between comedians and critics, and giving book festival readings from the work of imprisoned writers. But we're here to get people involved in Amnesty's campaigning work to defend free speech, something everyone here at the festival should cherish."
Credits