Rob Deering Experience
The Rob Deering Experience
Stand-up / Musical
9:30pm (1 hour)
3-14 & 16-28 Aug 2011
9.50
This is a 2011 show that has now finished.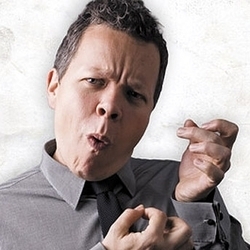 Show details
Stand-up show / musical starring Rob Deering performed on the following days in August 2011...
Mon
Tue
Wed
Thu
Fri
Sat
Sun
03
4
5
6
7
8
9
10
11
12
13
14
15
16
17
18
19
20
21
22
23
24
25
26
27
28
29
30
31
1
2
Venue details
Rob Deering and his guitar, the finest double act working in Britain today, return to Edinburgh. Experience his incredible backing group - a group with one member, Deering himself. He's not so much a one-man-band as a one-man-comedy-Woodstock. Experience his hilarious, not-quite-an-international-superstar life, combining razor-sharp stand up with incredible flights of musicianship. Experience Rob Deering. Not in that way. 'A massively engaging intelligent comic offering a cracking mix of songs and silliness' (Guardian), 'As sharp and versatile as a Swiss Army knife, Rob Deering is one of the best performers currently on the circuit' (Independent).
Share this show
Reviews
Press coverage
Full press release
This summer, Rob Deering - Comedy Rocks with Jason Manford (ITV1), Sing If You Can (ITV1) and Celebrity Total Wipeout (BBC One) - returns to the festival with his first one-man show since 2008. The Rob Deering Experience is the quintessential Deering show, combining barnstorming music with effortlessly scalpel-sharp stand-up to create a feel good hour guaranteed to send you energized if achy-faced into the night.
In an Edinburgh full-to-bursting with comedy there really is nothing like this; a one-man band, an all round entertainer, and a comedian's comedian, all in one cheeky-faced package.
This is Rob's seventh solo show and, like a wave, this is the big one, a rollercoasting summary of his not-quite-a-rock-and-roll-superstar life set to a live, best-ever-pop soundtrack.
In the three years since his last full Edinburgh run Deering has gone from strength to strength in the rest of the world; as well as being one of the UK's finest headliners he has recently toured throughout the Middle East and Asia. Rob's stand-up television appearances include Comedy Rocks (ITV), Sing If You Can (ITV), Celebrity Total Wipeout (BBC One). It was Stewart Lee who said, "In a parallel universe, Rob Deering is the king of Saturday night television", but it may turn out to be in this universe after all. Rob has provided daily coverage for ITV's I'm A Celebrity and was the winner of the Weakest Link Comedians Special on BBC One. However he may still be best known for drinking his own wee on 99 Things To Do Before You Die (Five).
In 2008 Rob began hosting the monthly stand-up and music night Comedy Congregation, with headliner's including Russell Howard and Stewart Lee and has performed as a regular at Frank Skinner's Credit Crunch Cabaret.
---
Tweets by DeeringRob