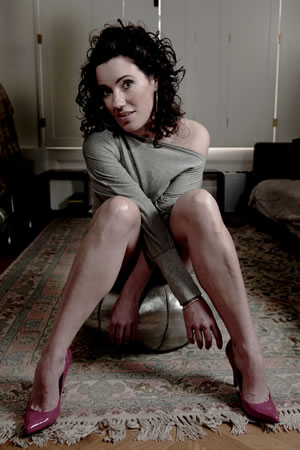 Heavily pregnant Edinburgh-raised Wendy Wason cut an assured figure as she made her way into the converted dining room of Stand 2. Her opening patois about being concerned at giving birth on stage and the human ability to have flashbacks (both supposedly unrelated although the thought is something that our reviewer will keep having flashbacks to) is interrupted by the entry of three small Irish lads, all under the age of 16 which almost immediately worries the audience. Her assured conversation easily puts the assembled few at ease.
The focus of the show is her looking back over her own life in order to get an idea of where she should go in the future. An admirable notion in anyone's book but the many threads of the show seemed to be brought together without much finesse.
At times the room seemed lost in her observations of family life and stories of growing up and coming of age. In other parts it felt like a trip down memory lane by a grandparent at a family dinner party, rather than a comedy show.
Wason is, without a doubt an incredibly likeable and charming comedian with an eye for a strong narrative. However, where she often fell down during this show was in the punchline. Even in this sort of reflection comedy there is room for a good punchline which has been worked into the material. In parts these seemed to be lost to hastily thrown in asides and there is no doubt that the show would have benefitted from them.
Between some really show-stealing responses from the afore-mentioned young chaps and a theme which didn't come together satisfactorily were some genuinely funny lines and heartfelt observations. However, we were left feeling that Wason's flashbacks could have been so much more.