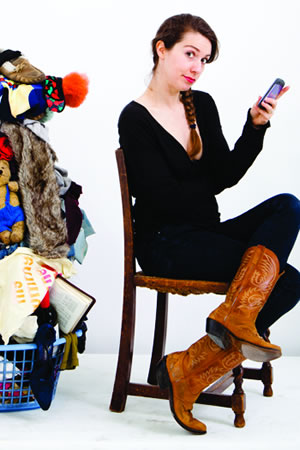 Meryl O'Rourke's show kicks off with a clothes horse perched at the rear of the stage while the introduction music plays. One begins to wonder whether it's the remains from a previous show or whether the show will be delivered while Meryl hangs up her washing. After a long couple of weeks at the Fringe, where comedians deserve good reviews for just remembering which day it is, nothing surprises anymore.
As it happens, the washing line serves a very simple purpose in the show - to hang photos of her family on as she takes the audience on a well-constructed journey through her immediate family history. O'Rourke manages to intersperse material about her family, the holocaust and religion through the opening portion of her show without it ever feeling forced or even leaving the audience feeling uncomfortable. Something which is easier said than done with material such as that.
It's easy to stand up in front of an audience and bore the faces off them for an hour with stories about your family and your mates: where the real challenge lies is getting an audience to engage with the people they're hearing about. O'Rourke manages this without the audience ever really feeling as though they're being overloaded with information. This engagement with her life and the way she was brought up is the lynchpin of the show and she's got the delivery of it just right. It's as near perfect as you can find.
O'Rourke's show is a refreshing antidote to the over-reliance on A/V among stand-ups at this year's Fringe. It's dark, it's full of wonderful little historical jokes that will appeal to enough of the audience to keep them in stitches but, for all it is occasionally sinister, Meryl O'Rourke's charming delivery and sharply observed tales leave the audience in no doubt that they've just seen one of this year's Fringe highlights.