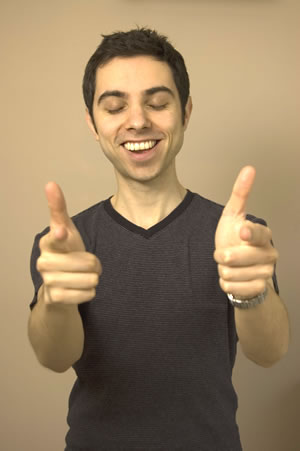 One of the central themes of Matt Kirshen's Wide-eyed is a succession of embarrassing situations he has experience in what he calls, "Ah fuck moments". Thankfully this Edinburgh is not one of them.
The show includes stories involving classical music and alcohol, a child's rather non-PC inquiry about a toy doll, and a round red ring on his forehead. All amusing anecdotes, delivered in an assured and confident manner.
Kirshen, who starred in the American stand-up reality show Last Comic Standing (think Show Me The Funny but more successful), also covers the USA and American politics, as well as the main difference between the US and the UK; namely the American fondness for success and the British love of failure.
In terms of his political material, he covers the recent riots - as all the comics appear to be doing at the moment - as well as the BNP, especially focusing on one incident when, performing in a village in Shropshire, he offended a supporter of the party and the two battled each other out.
Due to our love of failure I feel compelled to give him a really rubbish rating, but for some reason that does not feel right - he was too good.