John Robertson Blood & Charm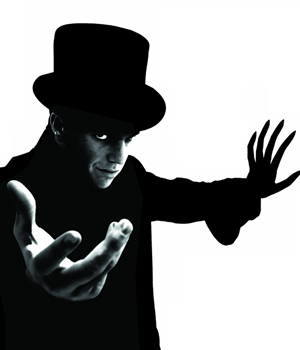 Scrambling up the mount to Assembly Hall through sheets of freezing rain it isn't surprising to find the place almost empty. In front of ten shivering, miserable people John Robertson explodes onto the stage all shining eyes, flashing teeth, and extraordinary suit. He is pitiless; squeezing laugh after laugh from the sodden crowd. It's rare that a set so intelligent and interesting delivers so many jokes, and rarer still to see them delivered with such energy and skill. A series of strange, violent tales veer wildly from sweet to sad to genuinely sick, leaving the audience shrieking.
It's important to be clear that this really is dark stuff. Robertson delivers stories of violent sex and family suicide with such energy and passion it never feels cheap, and when he says that particular parts are true you believe him (partly because the idea that he invented them is even more unnerving). His Edward Albee mini play and comments on art and theatre are just as sharp as his thoughts on what would drive a teenager to play with razor blades in bed. Brutal, poetic, bizarre and hilarious. If your taste runs to the dark you need to see this show.
Listing for John Robertson - Blood & Charm: Disturbing Stories for Disturbing Bedtimes