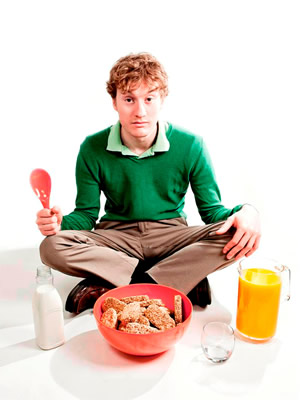 Strolling onto the stage with his slightly awkward body language and dry speech pattern, James Acaster takes a moment or two to adjust too. However once the audience has, they as immensely rewarded, as Acaster is an excellent and very natural performer. It is no surprise he has been supporting Josie Long and Milton Jones, as over the course of an hour in his company, you realise you're spending time with someone who is on the brink of something very special.
At his best Acaster showed real nerve on stage attempting more abstract and ambitious routines. It is so wonderful to see routines that you know other comedians aren't doing because they simply can't. Acaster is so in touch with his personality on stage he is able to develop these character-dependant pieces excellently. There were slightly weaker routines about day-to-day life, although the excellent performance abilities of Acaster did carry these bits through. It's a pleasure to see a performer of his age so assured of his persona and so comfortable on stage.
The audience interaction was performed to a high standard too. Acaster worked off suggestions with ease, and satisfyingly incorporated suggestions within the show.
However the feeling was there that the audience participation moments went on a little too long, and in the mind of a cynic, perhaps this was a compensating for slight lack in material. The structure of the piece did also feel a bit thrown together. A very good stand-up show will have a shape, structure and a sense of journey. This is something that noticeably lacked for me in this show. Although I could see good intentions with the ending, it proved just a bit weak and predictable, from what was otherwise a very innovative piece of work.
Accaster is the new generation providing strong alternative comedy, verging on surrealism. He remains entirely accessible whilst offering something new, a great get in for people looking to sample something more ambitious than mainstream comedy. This performer is certainly on the cusp of something very, very special. I'm keeping everything crossed that next year he's going to blow our heads off with something seriously mind melting.