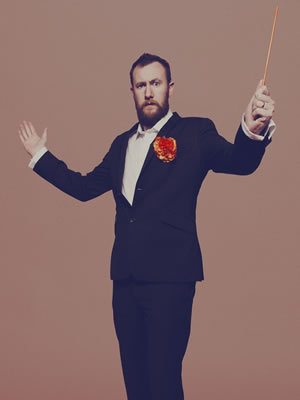 It's close to midnight, and in a large Germanic tent in the centre of Fringe Central something truly scary is happening: Ed Byrne is dancing to funk, and doing something loosely resembling a rap. Lord have mercy on our souls.
The Horne Section is one of the more elaborate events enlivening Edinburgh's twilight hours this year. Late night comedy here traditionally involves regular circuit-style nights with extra drunkenness and swearing, and while those nights still exist, there are now a welcome heap of higher-concept shows to choose from too, from a Texan Hoedown with Rich Hall to Texas Hold 'Em at Andre Vincent's Pokermen.
This is Alex Horne's offering, an antithesis of sorts to Hall's jazz-baiting rustic effort. Perfectly situated at the wonderfully evocative Spiegeltent, our bashful bearded host has gathered a versatile bunch of virtuosos, including pianist Joe Stilgoe (son of the oft-mocked old light-entertainer Richard), all smartly turned-out and beholden to a large wheel of fortune situated at the back of the stage.
This device decides what the band will play - games and musical genres - and a few other surprise activities. Several guest acts also wander on, including - on the night I visited - a couple of songs from Simon Munnery, Byrne doing a bit from his show with musical backing, and an impressive piece of improv band-leading from Beardyman.
Horne doesn't actually have to do a great deal, in truth, and a straight song from Stilgoe briefly kills the comic momentum, but it all builds to a bizarrely euphoric conclusion. A feelgood funfair of an evening then - if you're in need of an end-of-Fringe pick-up, do go get yourself sectioned.