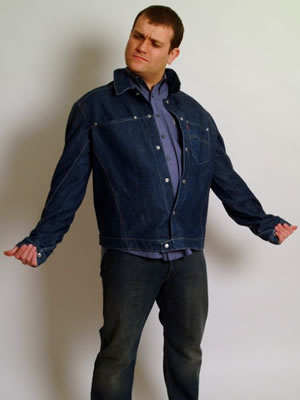 With lots of shows offering a big mish-mash of ideas with no overriding theme, it is refreshing to see a performer focus their stand-up abilities on a single topic. This is done fantastically in Gavin Webster's All Young People are Cunts. Unlike some Edinburgh shows, the title of this show relates directly to the theme, and never before have I witnessed a single statement covered in such depth and hilarious detail.
Occasionally Webster does resort to lazy stereotypes and overused observations, but for the most part, the set is filled with smart, clever observations along with a dash of personal material and surreal flights of fantasy. Adding texture to a piece of stand-up can prove a difficult task, but Webster achieves this through a selection of pictures and phrases on sheets of paper like a makeshift lecture, which fits in perfectly with the slightly shambolic and rambling set.
A show with this title could easily turn into an hour long moan, but Webster elevates the art of moaning into another realm. Although diversions from the main theme do occur (and they are incorporated very smoothly and satisfyingly), for the most part the piece is well focused and most of the humour is able to be extracted from the main theme. Although many comedians would struggle with this sort of limitation, Webster appears to thrive in squeezing all the comedy possible out of the concept.
Webster is the sort of natural performer who can't help but capture your attention. He maintains a strong presence throughout the set, and his command of the room is doubtless. What really makes this hour such a joy is the clear enjoyment that Webster himself gets out of performing. It's simply a pleasure to spend some time in his company. Shaking you by the hand as you leave, I was left with a really positive outlook on what stand-up can be. Even after calling every young person a cunt.