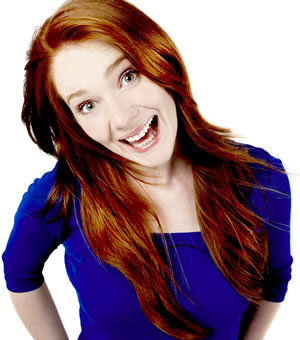 The highly energised and chipper Diane Spencer tells explicitly described stories regarding her sex life which make you double-blink and rub your eyes thinking "did she actually just say that?", but they are expertly delivered and outrageously funny tales. A creepy anecdote involving something you wouldn't want on your finger, a blood-stained shirt, tube train arguments and a gruesome tale about online dating that will leave you not looking at sausages in the same way again all feature. A fair chunk of her material may be too vulgar for some, but if you don't mind a bit of crude humour it's well worth a visit to the Gilded Balloon's Wee Room to see this very funny lady.
However, it is a dawdling start. The first five minutes or so involve her just getting comfortable on stage, warming up with a quick chat to the audience, and an explanation of what the show is about. However, once this is out the way she bursts into life and really grabs your attention and throws you into the stories with her.
During the hour the comedian touches on a whole host of awkward situations. For example; would you open an email entitled "Toilet 2010?" Guess who did, and where it left her. Trying to get thrown out of a strip club, and an argument with a bus driver are some of Spencer's other calamities. In All-Pervading Madness you are taken full circle, with Spencer explaining every detail, reliving every moment no matter how pleasing or gruesome, and leaving you entertained if a little disturbed at the events you have just heard.
A fierce core hides behind her cutesy stage persona and makes for a complex but equally distinctive Jekyll/Hyde outcome. One moment Spencer is happy, laidback and giggly, the next she is swearing and gesticulating the unimaginable and the extreme. But she keeps her energy levels high, the laughs are frequent and engaging and for that reason she is one of my Fringe recommendations.