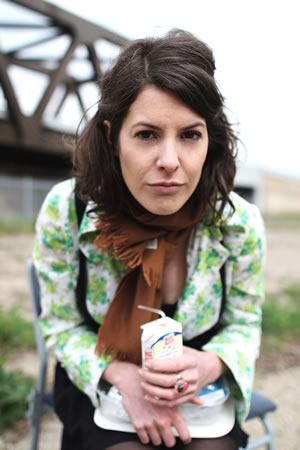 Catriona Knox has a range of bizarre character creations, and although some are better than others, her stronger characters are really good.
Knox, who is also known for being part of the sketch trio The Boom Jennies, begins her show as soon as you enter into the room. She plays a Greek restaurateur who is very friendly, but it becomes clear that her business is somewhat unorthodox. She gives menus to everyone, consisting purely of toasties - a menu which becomes ever more restricted and more disgusting as she goes on. She returns to this in the show several times.
Other strong characters include a divorced woman who is trying not to be upset about her relationship going wrong, during which we get a very brilliant mime which I will not describe here as you should go and see it live. Then there is Rose, a woman who is very nervous about going on a date.
Knox's other creations did not get as many laughs; such as the GCSE student from Bedford, and a veteran actress (although the latter does have a rather good pay off), but the best character for me was one that was not fictional. It was manic Sarah Ferguson, in a drunken rage, watching the Royal Wedding in a pub in Burnley.
The show is a mixed bag, and includes material that some might find distasteful, especially the ending, but it certainly does have its moments.