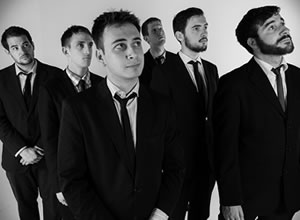 Stark strip lighting, the head of a mannequin spinning on a record player pumping out the Bee Gees on repeat and a clown nursing a bottle of vodka. It's an utterly disorienting sight to be greeted with on entering the venue for Choose Death, but it certainly sets the tone.
Sometimes, a show delivers precisely what its title suggests and - as you might have gathered - the rather macabre-sounding Casual Violence's Choose Death is certainly one of them. If you've come looking for the twisted side of life, you've got it in one; this is dark, weird and bold stuff that, brilliantly, doesn't forget to be funny.
At the top of the show, we are informed by our host - who also offers several musical interludes - that we will bear witness to six grisly deaths over the course of the night, so while there's no real narrative, we follow a small set of characters as they hurtle towards their fate. Big on neat writing and excellent comic acting, we're closer to the off-beat world of character comedian Colin Hoult here than most of the knockabout sketch troupes to be found on the Fringe.
Casual Violence's 'comedy collective' sensibility means this is great ensemble work, and each performer treats the audience to a stand-out moment somewhere along the way, while providing assured support when it's someone else's turn in the spotlight.
Greg Cranness, for example, displays heart-breaking sincerity as that poor clown who wordlessly tells us that he has lost his sweetheart, and James Hamilton offers some of the biggest laughs as a crotchety, creepy old man obsessed with taking his final breaths in the perfect death bed. Luke Booys's main character Bad Legs - an armless criminal with a penchant for knocking off dear old ladies - is as funny as he is terrifying.
The only slight problem with all of this is that there is no let up. It's very tightly choreographed and the performances are incredibly intense, to the extent that when the audience caught the glimmer of a corpse from one of the actors, their laughter had something of relief about it. Perhaps a chink of light might be good to counter the darkness then, but in the main, this is massively enjoyable comedy - twisted, smart and unique.