Peacock & Gamble Podcast
Peacock and Gamble Podcast Live
Improv
8:20pm (1 hour)
7, 14, 21 & 28 Aug 2011
9.50
This is a 2011 show that has now finished.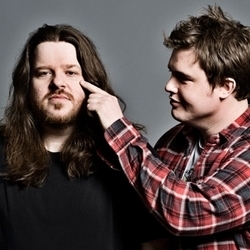 Mon
Tue
Wed
Thu
Fri
Sat
Sun
03
4
5
6
7
8
9
10
11
12
13
14
15
16
17
18
19
20
21
22
23
24
25
26
27
28
29
30
31
1
2
Venue details
As seen on Russell Howard's Good News, Ray Peacock and Ed Gamble bring their smash hit podcast to the Fringe for only four live recordings. It's like the normal podcast but you can be there and Ray will not be lying on a sofa (couldn't fit a sofa on the train). The podcast was Chortle Award nominated (should have won) and was included in the Guardian's Top Ten Comedy Podcasts. You can get it off iTunes for zero pounds and from www.chortle.co.uk, which is on the Internet (computer). 'Pure gold' (Guardian), 'Sniggering childishness' (Chortle.co.uk).
Share this show
Full press release
Oh, here comes trouble. Ray Peacock and Ed Gamble are bringing their Chortle Award Nominated Peacock & Gamble Podcast Live to the Edinburgh Festival Fringe for just four live shows - it's like listening to the podcast*, except you can actually see them in front of you and there's a specific time for you to enjoy it.
WATCH as Peacock & Gamble discuss behind the scenes Fringe gossip! LISTEN as they create some bitter rumours about more successful acts at the festival! LAUGH as they resurrect classic sections, such as their complaint letters from the made up family of a fantasy dying boy!
In just a few years Peacock & Gamble have built a large and dedicated fan base following the success of their BBC Online show Warm Up and their weekly Peacock & Gamble Podcast - which was recently selected by British Airways to be part of their in-flight entertainment. Last year the Guardian named the Peacock & Gamble Podcast as one of their top ten comedy podcasts calling the show "35 minutes of pure gold."
As a solo performer Ray was a part of Big and Daft - a comedy trio that enjoyed great success with three sell out Edinburgh Festival Fringe shows, a BBC Radio London series and BBC television series Terrorville. Ray has performed on BBC3's Russell Howard's Good News and as an actor has featured in some of the UK's biggest television programmes including Doctor Who (BBC One), Skins (E4), Harry Hill's TV Burp (ITV1) and The 11 O'Clock Show (Channel 4).
Ed has performed on Russell Howard's Good News (BBC Three) and Dave's One Night Stand (UKTV's Dave), he has supported Greg Davies and Russell Kane on tour and was a finalist in both the The Laughing Horse Big, Big, Big New Act Competition and Revels Student Comedy Awards. Ed has also written jokes for Ask Rhod Gilbert (BBC1) and Mock the Week (BBC2).
Straight after Edinburgh, Peacock & Gamble will be touring Peacock and Gamble Emergency Broadcast, covering shows in numerous venues across the country.
The Peacock & Gamble Podcast is released every Monday for free on iTunes and chortle.co.uk.
* Please note that Ray will probably sound a bit different, as he won't be lying on a sofa.
Credits
Visitor reviews