Peacock & Gamble Emergency
Peacock and Gamble Emergency Broadcast
Improv
10:50pm (1 hour)
3-28 Aug 2011
9.50
This is a 2011 show that has now finished.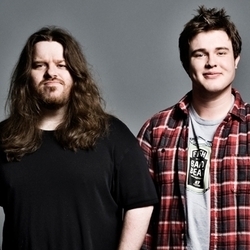 Mon
Tue
Wed
Thu
Fri
Sat
Sun
03
4
5
6
7
8
9
10
11
12
13
14
15
16
17
18
19
20
21
22
23
24
25
26
27
28
29
30
31
1
2
Venue details
We have all been at a show that goes wrong. Actors can forget their lines, technicians can miss cues or a lion can get in the room and go mental. But there has never been, until now, a back up show waiting in the wings, ready to leap in and save the day (and kill the lion). Step forward Ray Peacock and Ed Gamble (Russell Howard's Good News, Peacock and Gamble Podcast) with their ramshackle, seat-of-the-pants, emergency comedy night. Chortle Award nominees 2011. 'Unfettered roars of laughter' (Guardian). Don't bring a lion.
Share this show
Reviews
Press coverage
Full press release
This year Ray Peacock and Ed Gamble make their long anticipated Fringe debut as a double act. After building a large and dedicated fan base with Chortle Award Nominated Peacock & Gamble Podcast and BBC Online's Warm Up, the duo will swoop into Edinburgh (by train) with Peacock & Gamble Emergency Broadcast - an insurance policy show that waits in the wings of other shows, ready to take over at any moment if something goes wrong (e.g. power failures, heart attacks, bees getting in).
Whilst the rigours of the Fringe suggest that Peacock & Gamble will be on in the same venue at the same time every night, they have been hired by Edinburgh Council (probably) to cover EVERY single Edinburgh show for the month of August, and will genuinely bring their show to any venue to fill in for any cancelled show. Their show is designed to please literally EVERYONE IN THE WORLD (at some point during the hour), so if there are problems with anything from dancing shows to children's theatre, Ray and Ed will be there, poised to make sure the audience do not leave disappointed.
Ray and Ed both took part in the Festival's longest running group comedy show, The Comedy Zone, which previously launched the careers of Dave Gorman, Harry Hill, Stewart Lee, Al Murray and Ross Noble.
As a solo performer Ray was a part of Big and Daft - a comedy trio that enjoyed great success with three sell out Edinburgh Festival Fringe shows, a BBC Radio London series and BBC television series Terrorville. Ray has performed on BBC3's Russell Howard's Good News and as an actor has featured in some of the UK's biggest television programmes including Doctor Who (BBC One), Skins (E4), Harry Hill's TV Burp (ITV1) and The 11 O'Clock Show (Channel 4).
Ed has performed on Russell Howard's Good News (BBC Three) and Dave's One Night Stand (UKTV's Dave), he has supported Greg Davies and Russell Kane on tour and was a finalist in both the The Laughing Horse Big, Big, Big New Act Competition and Revels Student Comedy Awards. Ed has also written jokes for Ask Rhod Gilbert (BBC1) and Mock the Week (BBC2).
Straight after Edinburgh, Peacock & Gamble will be touring Peacock and Gamble Emergency Broadcast, covering shows in numerous venues across the country.
Credits
Visitor reviews