Mark Olver
Olver: Portrait of a Serial Killer
Stand-up / Play
3:35pm (1 hour)
4-8, 10-16, 18-20, 23-28 Aug 2011
7
This is a 2011 show that has now finished.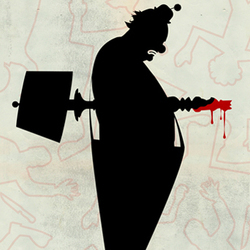 Mon
Tue
Wed
Thu
Fri
Sat
Sun
1
2
3
4
5
6
7
8
9
10
11
12
13
14
15
16
17
18
19
20
21
22
23
24
25
26
27
28
29
30
31
Venue details
Mark Olver returns to Edinburgh with a new show. Sort of stand-up, sort of theatre, and all kinds of scary. Actual violence guaranteed. Three previous Edinburgh shows, support act for Russell Howard's national tour, and warm-up for shows like 8 Out of 10 Cats and 10 O'Clock Live. This is his story. **** (Scotsman), **** (Chortle.co.uk), **** (Fest), **** (ThreeWeeks). Best New Show, Leicester Comedy Festival 2011.
Share this page
Reviews
Full press release
Mark Olver has been gigging on the stand up circuit for ten years.
Mark Olver has supported Russell Howard on tour.
Mark Olver is one of the most in-demand TV warm up acts in the UK, including 8 Out Of 10 Cats.
Mark Olver won Best Debut Show at the 2011 Leicester Comedy Festival.
Mark Olver is performing his fourth solo show at Edinburgh.
Mark Olver has a terrible secret.
Mark Olver is a Serial Killer.
For the last decade, Bristol-based comic, Mark Olver has been using his stand-up career as the perfect alibi to become a Serial Killer. He's not proud of the fact. Here is his story.
This is a tale about the dark twists and turns of stand-up comedy, and how one man's obsession can spiral out of control. In this interactive show, full of shocks and surprises, Olver reveals how things can sometimes get out of hand.
Mark Olver Biography
After ten years as a stand-up, Mark Olver returns to Edinburgh for his fourth solo show. He recently won Best Debut Show at the Leicester Comedy Festival and is currently working regularly as a warm-up act for shows such as Deal or No Deal, 8 Out Of 10 Cats and David Walliams' new show Wall of Fame on Sky1.
In 2009 he supported Russell Howard on his national tour, and is a regular on the festivals scene during the summer. Mark is also involved in running his own gigs in Bristol, and performs at comedy clubs throughout the UK.