Michael J Dolan
Michael J Dolan - Dress to Depress
Stand-up
6:10pm (1 hour)
4-14 & 16-28 Aug 2011
Free
This is a 2011 show that has now finished.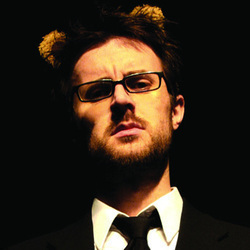 Show details
Stand-up show starring Michael J Dolan performed on the following days in August 2011...
Mon
Tue
Wed
Thu
Fri
Sat
Sun
03
4
5
6
7
8
9
10
11
12
13
14
15
16
17
18
19
20
21
22
23
24
25
26
27
28
29
30
31
1
2
Venue details
Leicester Mercury Comedian of the Year 2011 nominee. One of the smartest new voices in comedy, Michael J Dolan presents his own twisted philosophy of all things. Stand-up comedy for miserable grown-ups.
Share this show
Reviews
Press coverage
Full press release
Manchester's-own grumpy young man, Michael J Dolan, brings his first solo show, Dress to Depress, to the Edinburgh Festival.
Paranoid, emotionally-fragile and a borderline recluse, Dolan runs the full gauntlet of human emotion; from self-loathing through to all the other kinds of loathing. In his debut show at the Edinburgh Fringe, he promises to make you laugh at the sheer awfulness of absolutely everything, from time travel and the ghosts of supposedly living celebrities to the idiots you share your life with, your stupid friends and dreadful family.
He spits out his fury at the injustices the world has dealt him, including suffocating relationships and the sorrows of quitting smoking - all tempered with the occasional wry smile.
Michael J Dolan is rapidly becoming one of the smartest new voices on the circuit, hot on the heels of being a finalist of the Leicester Mercury Comedian of the Year, he recently won a place in the semi-final of the BBC New Comedy Awards 2011.
Continuing the long-standing tradition of proper stand-up comedy as perpetrated by Billy Connolly and Dave Allen, through to modern proponents Dylan Moran and Jack Dee. Michael J Dolan presents his own twisted philosophy of all things and promises an onslaught of hilarious negativity, because what use is unconditional love without a big healthy dose of irrational hate to balance it out?
Michael J Dolan Biography

Michael is a writer and stand-up comedian. Born into the employment wilderness of Barrow-In-Furness in '77 he was moved to Manchester before he could even say his own name. He spent a year as an adult living in Brighton and it was here that he first applied to attend a stand-up comedy course. The course was cancelled due to lack of interest. One month later he had his first nervous breakdown. He has since returned to Manchester where he now lives, mostly indoors, with a woman and a cat.
He has now been a regular face on the Manchester comedy scene (without the aid of a comedy course) for four years and can often be seen at the Frog and Bucket where he has progressed from amateur night mainstay to fully paid weekend performer with a depressing inevitability. As of 2011 he is a regular performer at clubs all over the north of England, the Midlands and Scotland, was nominated for Leicester Mercury Comedian of the Year and is a semi-finalist in the BBC New Comedy Awards. He performed at the Edinburgh Fringe in 2009 in a compilation show which shall remain unnamed and sank without trace. He received two reviews, both were terrible and only one of them got his name right.
---
Tweets by MichaelJDolan