Kate Smurthwaite
The News at Kate 2011
Stand-up
8:20pm (1 hour)
6-15, 17-28 Aug 2011
Free
This is a 2011 show that has now finished.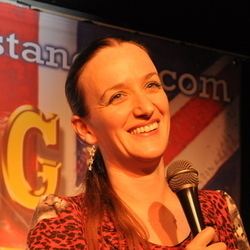 Show details
Stand-up starring Kate Smurthwaite that was performed at Ciao Roma at 8:20pm for 1 hour, on the following days in August 2011.
Mon
Tue
Wed
Thu
Fri
Sat
Sun
1
2
3
4
5
6
7
8
9
10
11
12
13
14
15
16
17
18
19
20
21
22
23
24
25
26
27
28
29
30
31
Venue details
Kate Smurthwaite returns with a new hour of smart, insightful, radical political humour. Featuring tales of the activist front lines, proper satire and the A-Z of highbrow comedy (A is for Agincourt, B is for Brecht, keep up...). Kate has appeared on BBC TV, BBC Radio 5, 4 and 2 this year toured as support for Shazia Mirza. She is the head writer on both Comedy Manifesto and international satirical TV show Network and has written columns for Guardian and Cosmopolitan. 'A powerhouse of observational wit' (Spectator), 'Comedy that cuts through the cr*p' (ThreeWeeks).
Share this page
Reviews
Press coverage
Full press release
Political comic, Kate Smurthwaite is back at the fringe with her new show The News at Kate 2011 all about this year's news and views and all the political shenanigans she has been involved in this year. So left wing it hurts, political campaigner, ardent feminist and hardcore do-gooder, Kate casts her satirical eye over all things political and gives her brilliant, witty, hilarious take on them, including her on-going fallings out with Daily Mail writer Angela Epstein and Conservative MP Nadine Dorries and her leading of the Nope Pope march last year protesting the Pope's state visit.
Kate is the MC at Soho Comedy Club and gigs all over the UK and internationally, particularly in Scandinavia having supported Sweden's favourite comic Magnus Betner, and also in America in LA and NY, France, Italy, Switzerland, Uganda and the Canary Islands. As well as performing stand-up, Kate is a regular Radio and TV political commentator. More than 100 appearances on BBC Radio Five Live (Stephen Nolan Show, Richard Bacon Show, Tony Livesey Show, more than 20 appearances on BBC Radio Two's Jeremy Vine Show, four appearances on Sky Travel's Where In The World panel show, ten appearances on BBC Breakfast News on BBC One, six appearances on BBC One's The Big Questions). Kate is a guest presenter on Leith FM throughout the festival.
Kate is the lead writer on critically acclaimed live political comedy show The Comedy Manifesto which is on every afternoon during the fringe, (15.40 - 16.40 3rd - 29th, not 16th, Voodoo Rooms) where she will also be hosting. She also writes the Cruella-blog website
Last year Kate hit the headlines by getting onto the fourth plinth in Trafalgar Square by "borrowing" someone's identity, making her the world's first living art forgery.
Kate has just completed a tour of the UK as support act for Shazia Mirza and is on the board of The Edinburgh Fringe Society.
Visitor reviews

Pieter Abele
Gargamel
"Arguing with idiots" is a term this smug "debater" uses to justify her abusive belittlement of religious people which truly tells the story of why this self satisfying troll seems to be on stage The entire ending portion of her show seemed to be a self congratulating "Look how clever I am at abusing idiots who believe in a deity or that a foetus is a living being"