Jollygoodlarks
Jollygoodlarks - How to Make it Huge
Stand-up / Music
2:40pm (1 hour)
4-15 & 17-28 Aug 2011
7.50
This is a 2011 show that has now finished.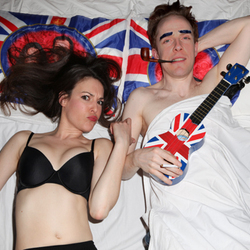 Mon
Tue
Wed
Thu
Fri
Sat
Sun
03
4
5
6
7
8
9
10
11
12
13
14
15
16
17
18
19
20
21
22
23
24
25
26
27
28
29
30
31
1
2
Venue details
Become the next big thingy in this whizz-bang showbiz escapade! Laugh and learn with our intrepid boy-girl double act. Character comedy and adventures. Edinburgh debut as a two-piece, but not as a two-piece swimsuit. Previous collaborations have received excellent reviews, **** (Time Out Critics' Choice), 'The splendidly comic Marie Lawrence' (Stage), 'Greg Haiste is an absolute delight' (Stage), 'These guys rock. A really funny sideways look at the wannabe industry' (Charlie Russell, producer Jamiroquai) Anyone seeking a really funny sideways look at the wallaby industry should try elsewhere.
Share this show
Reviews
Full press release
Why are there so few boy-girl double acts? Why such a woefully sparse niche for male-female monkey business? Good news is here. Greg and Marie, as Jollygoodlarks, debut at Edinburgh in 2011 in their quest to change this with uncynical silliness aplenty. Meet Wills and 'Cake' - the new 'Dukess' of Cambridge, groupies, foxes and more in a whole slew of characterful shenanigans.
Jollygoodlarks - How To Make It Huge is part rags-to-riches fable, part comedic lecture. Our waggish host 'Posh Liam' Gallagher, a hundred times more Bertie Wooster than his laddish namesake, teaches you all the tricks of the showin' orf trade. But can his cheeky young protegée, Marie, be as huge as he is?
On the highbrow side, the show is a treatise on modern celebrity. On the lowbrow side it's saucy jokes and upbeat frolics. We rattle through a plethora of characters in a glorious showbiz escapade where the word 'career' is more of a verb than a noun.
Greg Haiste and Marie Lawrence met co-devising and performing in the **** Time Out Critics' Choice The Missionary's Position for the award-winning Penny Dreadful. They had so much fun they thought they'd co-continue co-being co-funny together... and Jollygoodlarks was hatched.
Greg is an actor and comedian. His character of 'Posh Liam' was the highest placed character act in the UK in the Laughing Horse New Act of the Year competition. Marie's recent move to comedy after a succesful career as a contemporary dancer means she can do the splits whilst telling jokes.
Their many and varied workings include the Olivier award-winning The Play What I Wrote, Peepolykus, Shakespearean clownery for the legendary Sir Peter Hall, Rambert Dance Company, Bourgeois and Maurice, Told by an Idiot's Paul Hunter, writing for BBC's The Karen Dunbar Show, Radio 4's Fags, Mags and Bags and even as naughty oicks on Emmerdale and Heartbeat. Greg trained at The Royal Scottish Academy of Music and Drama and Marie at Bretton Hall where The League of Gentlemen famously honed their craft.
Jollygoodlarks was created in 2011. Jollygoodlarks - How To Make It Huge marks Greg and Marie's debut as a two-piece. But not as a two-piece swimsuit.
---
Credits
Tweets by jollygoodlarks