Jigsaw
Dan Antopolski, Tom Craine & Nat Luurtsema: Jigsaw
Sketch show
5:45pm (1 hour)
3-29 Aug 2011
9.50
This is a 2011 show that has now finished.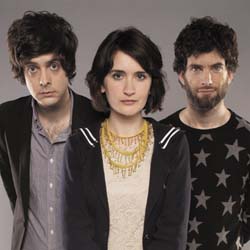 Mon
Tue
Wed
Thu
Fri
Sat
Sun
1
2
3
4
5
6
7
8
9
10
11
12
13
14
15
16
17
18
19
20
21
22
23
24
25
26
27
28
29
30
31
Venue details
Dan Antopolski (Triple Perrier nominee, Dave Award winner 2009) 'Hilarious, imaginative and wonderfully cheap' (Independent) joins forces with Tom Craine (Times Top Five 2010) 'Wise, funny and lyrical' (Observer) and Nat Luurtsema (Chortle Newcomer nominee 2008) 'Disgustingly talented' (Guardian) to culture an hour of smart, stupid sketches for your entertainment. FAQ: Are you better / worse than other sketch shows? Maybe better. Are you good-looking or funny? Yes. Will your show fill us with joy? Steady on. Also our venue is air-conditioned in case you are hot or blow off.
Share this page
Reviews
Full press release
A smart, stupid sketch show from three of the Fringe's most inventive comedians.
Dan Antopolski (Triple Perrier Award Nominee, BBC New Comedy Award Winner and Dave's Funniest Joke of the Fringe Award Winner 2009), Tom Craine (BBC National Student Award Winner 2006) and Nat Luurtsema (Chortle Best Newcomer Nominee 2008) have joined forces to create a hydra-headed sketch monster called Jigsaw. This is their self-titled debut Fringe show.
First there will be some funny sketches that will definitely make you laugh maybe. Then, as the 'jigsaw' is assembled, connections will begin arcing all over the place like toilet roll over a teacher's house. Finally the show will end in life-affirming triumph. It will be "a perfect blend of smart and silly" (Spoonfed) containing "dozens and dozens of well-honed jokes" (Guardian) in a fast-paced show that promises to be "hilarious, imaginative and wonderfully cheap" (Independent).
JIGSAW are:
Dan Antopolski: "Charming, bizarre and very funny" Melbourne Age is a multi-award-winning veteran of eleven Edinburgh festivals. This year he completed a 50-date national tour of his seventh stand-up show Turn Of The Century. His previous collaborations include the Perrier Award nominated sketch show Lee Mack's New Bits with Lee Mack and Catherine Tate - and The Dinks with Tony Law and Craig Campbell which followed its Edinburgh hits with a run in New York for NBC.
Tom Craine: "Wise, funny & lyrical" (The Observer) is an award-winning stand-up comedian and writer. Previously one eighth of highly acclaimed Fringe sketch group Superclump, his solo 2010 show Choirboy to Addict And Back Again was chosen in The Times Top 5 Picks, while his BBC Radio 2 comedy The Sharp End was Comedy Choice in The Guardian, Independent, Times, Daily Mail and Telegraph. Tom is ex-head Choirboy of Bath Abbey Choir and a proven recording artist.
Nat Luurtsema: "Wincingly funny" (The Guardian) is another eighth of Superclump and one sixth of Channel 4 sketch show Girl Friday. Last year she performed her debut solo Fringe show In My Head I'm A Hero. She is the author of The Boomerang Kid, to be published by Hodder and Stoughton in early 2012. She has written for The Times, Channel 4 and The One Show and doesn't she just bang on about it.
Visit www.jigsawcomedy.com and watch three sketches made by Jigsaw for the BBC.
People of all ages love a jigsaw! No under-12's.