Jeff Mirza's Jihad
Jeff Mirza's Jihad: Heresy Or Hearsay
Stand-up
10:40pm (1 hour)
4-28 Aug 2011
9.50
This is a 2011 show that has now finished.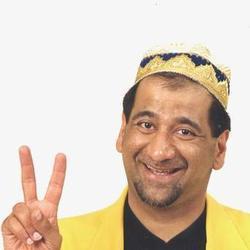 Show details
Stand-up show starring Jeff Mirza performed on the following days in August 2011...
Mon
Tue
Wed
Thu
Fri
Sat
Sun
03
4
5
6
7
8
9
10
11
12
13
14
15
16
17
18
19
20
21
22
23
24
25
26
27
28
29
30
31
1
2
Venue details
Prophets or losses? Blasphemy or Blast-for-me? See Muslim comic Jeff Mirza's hilarious jihadi fuelled 'faith off' about world beliefs fresh from a tour of Saudi Arabia. Do beards really matter? Why was JK Rowling being discussed at the local Mosque? Nectar Points or Clubcards: which is halal? Are gay Muslims allowed? Can cousin marriages, burqas, consumption of meat, inquisitions and crusades really help one get to heaven? Allah, Buddha, Christ, Dawkins, or Darwin - none are spared. Just don't shoot the messenger! Jews and Hindus welcome. Ramadan Mubarak!
Share this show
Reviews
Press coverage
Visitor reviews

ClansMan
Not hilarious. Nectar points or Clubcards not discussed. Which is Halal not mentioned. Gay muslims, cousin marriages, burqas, consumption of meat et al not mentioned. No humour content whatsover; no satire; perhaps an "off night" for the performer. Proved more entertaining on the Royal Mile when promoting the show himself. Low-light of the Fringe for me.