Guilt & Shame
Guilt & Shame
Sketch show
10:15pm (1 hour)
4-16 & 18-28 Aug 2011
8
This is a 2011 show that has now finished.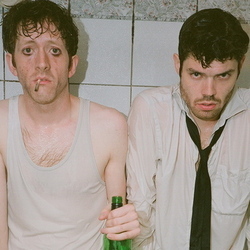 Mon
Tue
Wed
Thu
Fri
Sat
Sun
03
4
5
6
7
8
9
10
11
12
13
14
15
16
17
18
19
20
21
22
23
24
25
26
27
28
29
30
31
1
2
Venue details
Depraved new comedy duo for every bad decision you've ever made. Following a night of debauchery Guilt & Shame try to perform their sketch show but the sins of last night return to humiliate them. Drugs, theft and bestiality are just some of the disgraceful acts they will be downing with a bottle of vodka and vomiting onto stage in this outrageous show. 'Wonderful comedy' (Spectator), 'Laugh out loud funny' (WhatsOnStage.com), 'You don't get much more bold and fearless than this' **** (Spoonfed.co.uk), **** (ThreeWeeks).
Share this show
Reviews
Full press release
Robert Cawsey and Gabriel Bissett-Smith are Guilt & Shame, a brand new sketch group performing at the Just the Tonic at The Caves Wee One during the Edinburgh Festival Fringe. Drugs? Theft? Bestiality?! Just a few of the bad decisions you make on an eventful night on the town right..? Well, at Just The Tonic this summer this incredibly depraved new comedy duo will be performing sketches that bring the mystery, remorse and indignity to life on the Edinburgh Fringe stage.
Following a night of drug fuelled chaos and debauchery Gabe and Rob turn up to perform their "controversial" sketch show. But with no memory of the night before, a third member of their group missing and a mysterious locked metal box handcuffed to Gabe's hand they should call the show off. But they owe a load of money to a local Scottish drug dealer and don't get paid unless they perform their whole set...
Shame and guilt are everywhere in our lives. From horrific one night stands to dropping acid at your granddad's funeral, Rob and Gabe have experienced them all. Making Trainspotting look like Last of the Summer Wine they do everything they can to stay on the straight and narrow but, being single and lonely with an unrelenting appetite for alcohol and class A's, that's easier said than done. Guilt and Shame is a hilarious downward spiral into the cost of trying to have some fun in our miserable lives.
Robert Cawsey trained as an actor at the Guildhall School of Music and Drama and Ecole Phillipe Gaulier. His film credits include Asylum (Paramount), Starter for Ten (HBO Films) and recently Dreams of a Life to be released this year. A Day at the Beach in which he stared in was nominated for Best Short at the Welsh BAFTA's. His TV credits include Casualty and The Bill. He has been writing comedy for the last two years with Radio 4's Carrie Quinlan. Robert has written and performed in two Edinburgh sketch shows on the fringe in 2009 and 2010 with Carrie Quinlan (The News Quiz, The Now Show) and Gareth Gwynn (The Now Show).
Gabriel Bisset-Smith is an award winning writer/director/actor from London. He's had plays produced at the Hampstead Theatre, York Theatre Royal, Theatre 503, Old Vic and BBC Radio Four. He's been on attachment at the Soho Theatre, Royal Court and developed new work at New York's Public Theatre. He's been a regular story contributor on Channel Four's Skins and directed music videos for Golden Silvers. His short film Thrush has had well over 250,000 hits on vimeo and won the Tenderpixel audience award at Rushes Soho Shorts as well as the Vimeo Best Narrative Award in New York. He trained at the Guildhall School of Music and Drama and, as an actor, has worked for the RSC, The Royal Court, Young Vic, York Theatre Royal, Lyric Hammersmith, Old Vic New Voices and The Bill. He's also just been nominated for an Off West End most promising playwright award.
Credits