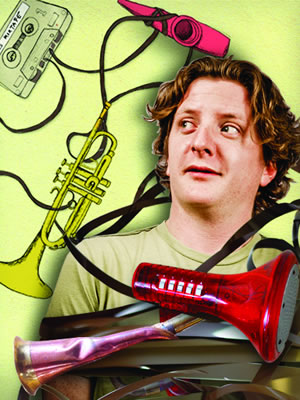 Steve Pretty has the unlikely privilege of owning a mixtape of songs that were played at his own wake, which he attended on 30th January 2005.
Finding this tape at the bottom of a drawer six years later, Steve realised that the process of compiling a mixtape - of carefully assembling it track-by-track, of listening to every song as it was being recorded, of decorating the tape box with doodles and stickers so that it was just right - was a fundamentally different experience to assembling an iPod playlist built to be beamed directly to your Bluetooth-enabled snood.
Just how similar are Deathcore and Progressive Country? If Christian Ska is crossed with Breakbeat then are the results greater than the sum of their parts? And how the hell did Christian Ska make the list of the world's favourite music in the first place?
By deconstructing the world's favourite music and then reassembling it using his unique blend of weird inventions, audience interaction and virtuosic musicianship, Steve presents a joyous hour of musical mayhem to remind you what music is really all about.
Interspersed with stories of just how Steve came to attend his own wake in the first place and what it's like to be reported presumed dead by the Daily Mail, Steve Pretty's Perfect Mixtape for the 2011 Fringe is part 'journey show', part primary school music lesson and part stadium-rock-gig-in-a-small-room-without-a-rock-band. Lucy Wood finds out more about his unique brand of musical comedy...
It's an unusual blurb for a show, Steve. Tell us more about it.
It's a show in which I talk about Nordic free improvisation, typhoid, the Macarena, the 2004 tsunami and play a teapot like a bugle. It's all held together by deconstructing a mix tape that my friend John gave me the day I attended my own wake.
Music is important to you, then?
Sure is. As well as performing comedy, I also work as a musician (mostly on trumpet). I guess you could call it my day job, except that it mostly happens at night.
In fact I'm doing quite a lot of late music gigs while I'm up here too. The Jazz Bar, on Chambers Street, is open 'til 5am so it's a bit punishing playing in there 'til then and then getting up for my show in the early afternoon, but that's what the festival's all about.
Recently I've been particularly interested in why music is important and where it came from; last year my show was a kind of evolutionary history of pop music, and this year I talk a bit about some of the things we use music for - to remember stuff, to celebrate things, to release happy hormones into our blood when we belt out that power ballad in an allegedly-ironic-but-actually-entirely-sincere way.
Is it a rich topic for comedy material?
Yeah, I think so. Most people are passionate about music of some sort or other and the music that was on my 'wake mixtape' is pretty varied - there's everything from South African jazz to Angels by Robbie Williams, which I can only imagine my mate John put on there as he knows my love of large groups of people singing something extremely badly.
I don't really do 'comedy songs' - my stuff is more comedy about music than musical comedy, I guess. Though part of the reason that I don't do comedy songs is that the trumpet is a very bad choice as an instrument to accompany yourself singing in a one-man show.
Have you enjoyed creating the show? What's been the best part, and how long has it taken?
It's been great fun. The ending is the bit that's taken the longest; don't want to give too much away, but I like to think that the show ends on a bit of a high.
If it wasn't for the limitations of Fringe timings, there would (genuinely) have been a balloon drop, a gate-crashing marching band and a confetti howitzer. Not enough shoes have confetti howitzers, in my opinion.
It's taken a fair while to put together. I basically started thinking about it after last year's show; I wanted to do a show about why music is important and it took a while to find the right way of doing it, but then I remembered that I am in the unusual position of owning a tape that was played at my own wake, and the show progressed from there.
What would you like your audience to take away with them?
A means of getting those musically-induced happy hormones flowing around the body, perhaps in small plastic form with a tiny picture of my face on it.
What are you looking forward to at the Fringe this year?
I like seeing a really varied mix of stuff, not just comedy. I tend to see almost as much weird theatre and music stuff as I do stand-up, so I'll probably be in a Portaloo in Leith watching a Chihuahua perform Chekov as much as I'm at the Underbelly or Pleasance.
How will you cope with the Edinburgh come-down? And what's the plan when it's all over?
The beginning of September's always a weird time if you've been performing at the Fringe. I think I'm going to drive around the Highlands a bit and find some little whisky distilleries in my camper van.
I'm then off to Turkey for a bit to perform Bollywood music (don't ask). But I'd really like to do this show elsewhere too; I'm in the process of booking in some London dates, and I'm half Aussie, so I'm looking into taking it out to Oz next year as an excuse to see my friends and family.
Steve Pretty's Perfect Mixtape is at the Underbelly Cowgate, Belly Dancer at 1:25pm. Listing