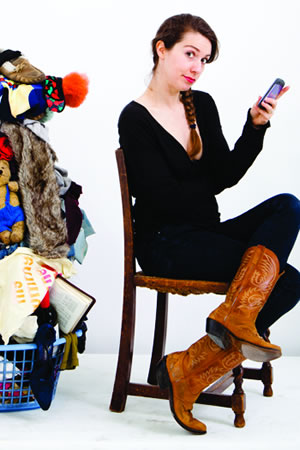 Does wearing PVC to a children's party make you a bad mother? How would you know when your own mother spent her weekends stalking minor celebrities? But when your mother's first memory was being punched by a Nazi, can you really blame her for not knowing how to effectively impart parenting tips?
Armed with her extraordinary combination of warmth and bitterness, with a mischievous twinkle in her eye; potty-mouthed potty-trainer Meryl O'Rourke is on a quest to end 72 years of inappropriate parenting. Lucy Wood finds out more...
Tell us about your show...
It's a collection of stand-up and anecdotes about life with my screwed-up mum (I using that as an excuse for my own appalling behaviour), Brazilian waxes, Nazi Germany and making friends with fetishists.
What would your mum think of it?
I'm not certain. I have thought about that long and hard. Sometimes I think she would be terribly proud of me for working on a comedy show which people really like and getting good reviews and selling out at the Edinburgh Festival. Other times I imagine she is thinking "24 years of cooking you lasagne and THIS is the thanks I get?"
I've apologised to her spirit many times for telling audiences that she was a nutcase. If she were alive I would have sat her down in private and said "You know mum... I'm really unhappy about certain aspects of your behaviour" - but I never got the chance to do that, so I'm getting it out of my system the comedian's way.
What's your earliest childhood memory? And what's the one that stands out the most?
Genuinely I remember bouncing in my pram on my belly. My mum always told me I must have been under six months old, as she put me sitting up at six months. I remember watching the light show at the back of my pram, then as it stopped, realising that it wasn't a light show, it was the air holes in my pram letting in light which bounced. I totally remember this.
I truly believe that babies are born with all the cognitive understanding possible and we just lose it over time as we clutter our brains with paranoia and television schedules. My childhood memory which stands out the most is going to see Sooty and Sweep live. In Bad Mother... I talk about our endless trips to comedy clubs and theatre, but what I don't say is that this started the day I was born.
We didn't only go to watch Sooty and Sweep - I made them presents, I wrote them letters, I waited by the side of the stage to be invited up. We wouldn't just see one show, we would go 4 or 5 times during each run. Yep, even as an infant I was a stalker... if you can stalk puppets.
Tell us about your mum... (and why you love her)
How long have you got! My mum was a librarian from South London. A dedicated fact-finding librarian who loved South London with a passion. She escaped Nazi Germany as a child, was very panicky but very politically active because of this experience, very intelligent but also absolutely obsessed with celebrity. A mess of contradictions, and generally just a mess.
Love her? Well she was my mum. My memories of her are mixed as she was constantly totally inappropriate and interfering. She was wonderfully cuddly, and worked tirelessly to always have the best for me despite being a sickly single mother on a part-time wage, living in council accommodation. (I have the same background as an inner city rapper).
I'm astonished as to how she managed on her own. I'm proud of her that she brought me up to be independent minded and questioning. Her parenting was definitely bizarre - but she must have got something right because I didn't fall to pieces when she died. Well, I remember phoning Tim Vine at 2am to tell him my mother loved him... but apart from that I held my life together. My family have had to deal with a lot of heavy shit but always come up joking.
I also love her because she took me to see Morecombe and Wise live when I was 6.
Do you think you're a bad mother? (I'd say deliberately embarrassing kids is a rite of passage!)
Good question! I know I was bloody asking for it with the title, but I've had so many people asking me why I am a bad mother... after the 10th quirky response about spending her college funds on Edinburgh and finding her Princess games tedious, one day I just broke down, having convinced myself that I was a monster and she will be making Mommie Dearest II should she survive the rehab I'm obviously driving her towards.
I think I am a mother that could make massive improvements. I'm never up for breakfast, I answer texts during playtime and I snap at her a good few 100 times more than I should. But if I were perfect, she wouldn't have anything to talk about at future dinner parties would she?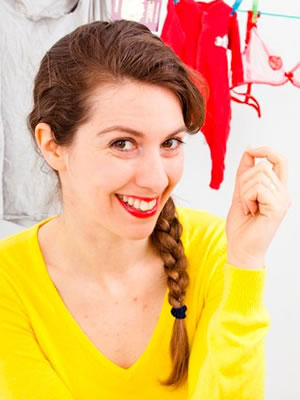 This is your debut Fringe show; how are you finding it so far?
I'm actually really enjoying it. I've worked really hard on the show so love telling the stories and gags to people.
The problem with being a newbie is I don't know how things are SUPPOSED to be - on the days where numbers have been down or the response hasn't been as rip-roaring as the day before, I'm on the verge of self-harming and then someone will say "It's Wednesday! Didn't anyone ever tell you about Wednesdays!?!"
Performing shows day after day must be exhausting. How do you chill out?
I don't get much time to chill out as I usually have gigs in the evening as well - having an afternoon show means after Bad Mother... comes out I grab a nap and start prepping for my evening gigs.
So it's the tiny mundane things that give me pleasure. Best evening so far was running to the corner shop at 10pm when they knock the prices down and buying a bag of pears for 20p. That was as big a high as my first sell out.
Have you ever totally blanked out on stage? Are you very well rehearsed?
Not totally as in completely unable to come back. But yes, I forget my thread sometimes - I love bantering with the audience and sometimes you forget what you were saying before.
Since most of my material is about being exhausted and distracted I have an excuse for appearing exhausted and distracted!
I do rehearse; many comics don't, I always do, I find it an invaluable part of the process. I heckle myself, interrupt myself, add in extra jokes and fall in love with the text all over again. I bought a black puffa jacket for Edinburgh that happens to fasten with a big band over my mouth; this is great as I wander the streets rehearsing. No one knows that I'm running through the show until I mime throwing a small child to a group of street dancers.
What's been your best gig ever?
This is going to sound really up my arse but here goes with the truth... doing 20 minutes at The Hammersmith Apollo in front of 4,000 people.
I was supporting Frankie Boyle at the end of his last tour. I was fully aware that the LAST thing the audience were expecting was to be greeted with some little posh English bird so I was numb with nerves - but I had also rehearsed my opening lines to within an inch of their lives. First line stormed, 4,000 people palm of my hand, I felt ridiculously at home on that stage, even started ad libbing dance moves. Bloody dream gig - desperate to do it again.
Who will you be seeing at the Fringe?
My fringe must is Edward Aczel, so I saw him on the first day. He's a bloody legend. How he manages to sustain an hour of what is basically an office meeting is genius. Just before, I saw him passing and grabbed him for a gushing chat. We talked about his family also being holocaust escapees, so I'm hoping he will come and see my show. That would be an honour.
My other must sees are Ruby Wax, who is one of my comedy heroes. And when my daughter comes up, we are heading straight for Little Howard's Big Show and Stickman. See, not such a bad mum, I bet you thought I'd be taking her to Spank and encouraging her to call people cunts didn't you?
And what's next for you after Scotland?
Who knows? That's what Edinburgh is for! I have jumped into a lake of possibilities and we shall see in September whether I surface covered in seaweed or clutching Excalibur!
'Meryl O'Rourke - Bad Mother...' is at the Underbelly at 2:45pm. Listing