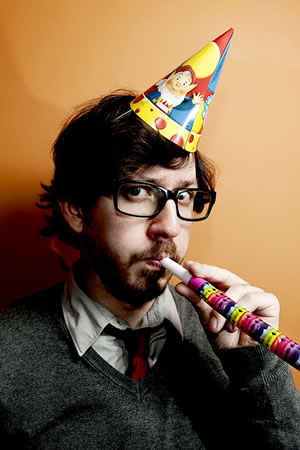 What do you get if you cross a comedian with his debut solo show and his hometown of Bromley? Matthew Crosby: AdventureParty, that's what. Lucy Wood finds out more in this interview.
31-year-old Matthew Crosby is, of course, one third of award-winning sketch group Pappy's, who describes himself as the short one with glasses (the remaining thirds being Ben Clark and Tom Parry).
A perennial Edinburgh Festival favourite, it's the first time in some years Pappy's hasn't put a Fringe show - but it's for very good reasons. Let's get onto those in a moment, because they have given Matthew - a seasoned stand-up and compere in his own right - the chance to do something he's longed to do for some time; a solo show.
The blurb the Fringe programme for AdventureParty doesn't give much away: "Is it an adventure? Is it a party?" it reads. "Is it neither? Come find out." Intrigued? Well, let Matthew tell you more...
Tell us about your debut solo show, AdventureParty.
The 40 words for the brochure rarely give anything away as they have to be submitted in early April; months before most comics have even come up with a concept. That's why so many shows are called something nonsensical like Jingle Jangling or non-descript like So and So is 'Avin a Larf! I'll leave you to decide which bracket my show, AdventureParty, falls into.
Basically it's me talking for an hour about Bromley (my home town), the difference between nerdiness and geekiness and popular chicken restaurant Nando's. But you wouldn't know it from the blurb.
An obvious question maybe, but why no Pappy's this year?
We have done five shows in a row - five hour-long sketch comedy shows, and we wanted to try something different. So we submitted a bunch of scripts and ideas to various TV and radio producers and commissioners, and we also started producing our own podcasts.
Luckily the podcasts were pretty successful and one of the TV ideas (an alternative beauty pageant) got commissioned. It seems like we made the right choice.
Obviously it also meant I was able to write and preview my own show, something I've wanted to do for years but, due to Pappy's schedule, have never been afforded the opportunity.
Your first solo show at the Fringe. The experience must be different compared to when you are performing in a group?
Yes, it's my first full-on solo show at the Fringe. I did a mixed bill show in 2006 and every year I've been up as part of Pappy's I've always made time to do solo shows.
It's nice to take a break from sketch although I'd be hard pushed to pick a preference. I guess if a gig goes badly on your own you've no one else to share the disaster with (by which I mean "blame").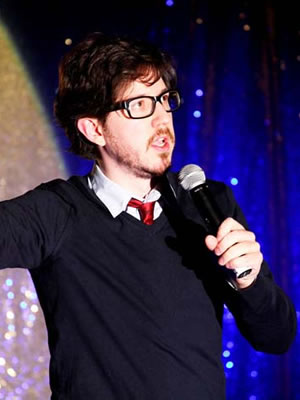 How do you prepare?
With this show I look over my slides, listen back to previous shows and make a few last-minute notes in my jotter.
For the first few previews I was "limbering-up" with a few large gins. However, this was increasingly resulting in me being unable to speak come the 30-minute mark. Luckily my show's at 4.45pm so it should be fairly easy to avoid pre-show drunkenness. I hope.
Gin, sounds fun! Would you have any qualms about your family seeing the show?
Absolutely. One of my brothers and my sister have already seen it. In fact, my sister took some of the photos that I use in the show.
My parents will probably see it during the festival. It's a fairly family-friendly show. Besides, my parents saw me in a student revue while I was at university in which I played a necrophiliac, so they're fairly un-shockable.
I'm sure they're just happy that I don't get jiggy with a corpse in AdventureParty.
That's good to know. How will you be relaxing at the Fringe? And who would you recommend seeing?
I'll be relaxing by sleeping in until about midday every day, which might sound lazy but is actually quite an early start for Edinburgh.
As for shows I'll be seeing, I highly recommend Joel Dommett, Josh Widdicombe, Matt Forde, Isy Suttie, Josie Long and John Kearns.
And finally, what are your tips on surviving the Fringe?
Eat well, drink in moderation, don't believe your own hype (because you're paying someone to create it), get lots of rest and remember that there's a world outside of Edinburgh.
To this day I've not been able to follow even one of the above.
---
Adventure Party is at Pleasance Courtyard at 16:45 until the 29th August. Full Listing
For those of you with Pappy's withdrawal symptoms, Matthew, Ben and Tom guest star (vocally) in The Return of O'Farahan and Keith.