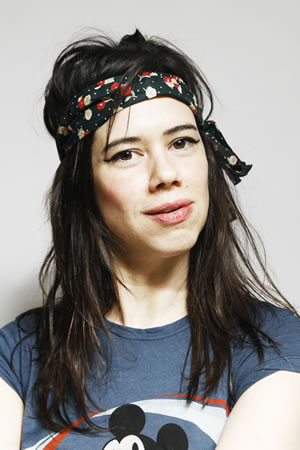 From slipping on banana skins to singing Rocky in front of the mirror, welcome to the world of Lou Sanders. In her own words, her 2011 Edinburgh show - How To Be Awesome: An Introduction - is a "shambolic hot mess". She tells Lucy Wood more about it...
Tell us about your show...
It's about how parents affect our life choices and how, through no fault of their own, our fate seems to be set regardless of our wants, and how hard it is to break the cycle of neglect and abuse that passes from generation to generation...
Only joking, it's mostly dick jokes.
Tell us about your first ever gig.
My first gig was nice because all my friends were there so I really enjoyed it. But you can't get your friends to come to all your gigs - because then they won't be your friends anymore.
Which comics do you admire?
Tim Key, Daniel Kitson, Micky Flannigan, Bridget Christie and Brett Goldstein.
How do you prepare for the onslaught of the Fringe?
I like to look in the mirror and sing Rocky songs to a Jazz tempo. I also make sure I have a show, because I think that's important.
Where do you get your inspiration from for your material?
You've Been Framed. And in real life, when people do stupid things, like slip on a banana skin. Always funny, sometimes topical.
What do your friends and family think of your job?
They think that I am a barrister and are very proud of me.
What's your favourite thing about the Fringe?
Getting better and seeing the show improve. Seeing your hard work come together. Hanging out with other people you love and seeing what they're doing - it's really exciting - especially this year, as loads of my friends are doing their first hours, so it's really exciting to see what they've done.
What will we see you doing next?
Maybe a dance number. I would one day like to incorporate my great style of dancing and break the last taboo; comedy and dance. Why can't they sit side by side? It just makes me angry that people don't necessarily want to see dancing as a punch line.
Lou Sanders is at the Gilded Balloon at 5pm until 29th August. Listing