Kunt and the Gang apologises for defacing posters
Following angry complaints from comedians and venues, Kunt and the Gang has issued a tongue-in-cheek apology for being the catalyst behind many of this year's Edinburgh posters being defaced with penis stickers...
---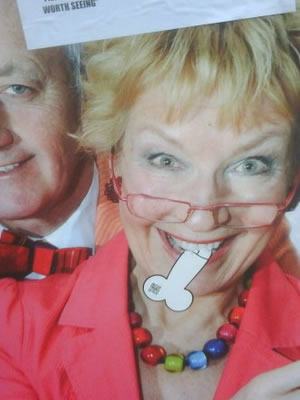 Kunt and the Gang would like to apologise to anyone who is upset about the 'crudely drawn cock' stickers that have been appearing all over posters in Edinburgh. When we had 5000 of the cock stickers printed in the run up to the Fringe Festival we just thought it would be a light-hearted alternative to flyers. The plan was to give them to our audience each night so they could go out and vote with their cocks by sticking them in amusing places on posters. It was intended to be one big jolly jape that everyone laughed along with. This I now know was a badly misjudged joke that horribly backfired.
Unfortunately it was brought to our attention that some comedians were extremely angry at seeing their posters adorned with an effigy of a male member. This culminated in myself being physically threatened by one irate comic who failed to see the funny side of his poster being decorated by a member of the public with a crudely drawn image of a man's winky.
Further to this, after only four nights of the audience being handed stickers at the end of my show, I received a warning from the Fringe Police and was told that Underbelly had threatened action should any more of my stickers be handed out. I suspect the cock that broke the camel's back was the penis that ended up in Christine Hamilton's wine glass on their flagship poster on Bristo Square. The same night I received a visit at my venue from Edinburgh Council Environmental Dept who told us that they had spent the day pulling off over a hundred cocks. They showed us examples of cocks they had found on posters, including the one of Russell Kane with his mouth open, the one of Richard Herring lying on a bed and the one of the Spank Comedy Club with that bird bending over. I gave them my assurance to that no more cock stickers would be given out.
I would like to take this opportunity to say my cocks were not meant maliciously or designed to annoy anyone and I sincerely apologise if one of my cocks got up anyone's nose. Admittedly I didn't think it through properly. I mistakenly thought everyone would share my enthusiasm for seeing Edinburgh covered in crudely drawn cocks for a month. In retrospect I realise I was like America selling Weapons of Mass Destruction to the Middle East without a thought for who my cock shaped missiles would be affecting. Furthermore I would also like to apologise to any of the performers who have had a cock removed and are now left where the sticker once was or a 'ghost cock'. I'm sorry if my cock cheesed anyone off.
---
Ian Fox has taken some pictures of some of the more creatively defaced posters. You can see them in his image gallery
Kunt and the Gang, which as the name alludes to is quite a naughty show and definitely not for kids, is on at Laughing Horse at The Hive every day at 9:15pm. The show features an hour of rude songs. Listing