Direct Devitt: Mammy
Direct Devitt: Mammy
Play
5pm (1 hour)
6-20 Aug 2011
Free
This is a 2011 show that has now finished.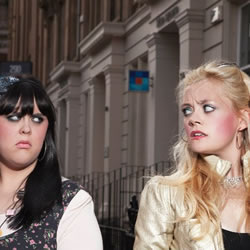 Mon
Tue
Wed
Thu
Fri
Sat
Sun
03
4
5
6
7
8
9
10
11
12
13
14
15
16
17
18
19
20
21
22
23
24
25
26
27
28
29
30
31
1
2
Venue details
Come and join the madness that is Direct Devitt! Join Anna Devitt (Lee Mack), Vivien Taylor (A Spanking in Paradise), Sharon Rooney (Harry Hill), Katrina Lamont (National Theatre of London & Scotland), Fiona Chapman (EK REP & We Were Here) & Laura McLaughlin (MEDEA) on this comedy tale of one woman on a misson. (Well she would be if she could get rid of her four daughters!) Written by Cathie Devitt.
Share this show
Full press release
Direct Devitt: Mammy is a comedy drama production with an all female Scottish cast. The show was written by Cathie Devitt, produced by Anna Devitt and Cassandra Devitt and includes an extremely talented cast!
The original idea was that they would all pull their strengths together to produce something that they enjoyed and that others would relate to and have a giggle at! On the 1st of April 2011, for one night, the show made its debut for Magners International Comedy Festival and was a sell out!
Then it was asked to go 'Down South' to the Henley Fringe Trust 2011... The show was partly re-cast and re-vamped with sections of the original show integrated with new material written by the cast and creative team. It was a great success! This year's Edinburgh Fringe will see the original story of Mammy at 5pm every night from the 6th-20th of August at Base Nightclub (Venue 56) on The Cowgate.
Mammy is a reminder to appreciate your mother and that she existed before you were even thought of... A story of a woman on a mission... if she ever gets rid of her four daughters!
The Cast

Anna Devitt as Roy: Anna has been up and down the UK in the past year with her comedy routines. After getting to the semis of Scottish Comedian she has fire in her belly, which you may have seen on the Lee Mack's All Star Cast show in 2011. Anna has two shows and numerous appearances this year at the Fringe. Anna is playing Roy... Roy is... well... ah... You'll see!!!!!!
Fiona Chapman as Mammy: Fiona is one of the in-house directors of East Kilbride Rep. Straight after the Fringe she will be involved in Be My Baby. Her credits include We Were Here and further productions with the Citizens Theatre. She plays a huge part of East Kilbride Rep and performs every six weeks! Fiona is playing Mammy... will she live happily ever after?
Katrina Lamont as Camilla (week 2): Fresh off touring Girl-X with National Theatre of Scotland Katrina is making her own debut at the Fringe this year, her credits include The Citizens Theatre, National Theatre of London & Scotland. Katrina plays Camilla, a bi-polar type character with some amazing one liners!
Laura Margaret McLaughlin as Camilla (week 1): Laura gained her BA in Performance and has kept busy ever since! She is a trained dance teacher and has her own Drama School: Laura McLaughlin's School of Dramatics. Her credits include A Play, A Pie and A Pint, Medea & she has had the pleasure of working with Paulo Nutini.
Vivien Taylor as Oolong: Vivien has an MA (Hons) in Film and TV and Theatre from the University of Glasgow and has played everything from junkies to princesses! Her credits include Outpost: Black Sun, CBBC's Hedz and A Spanking in Paradise which is to be released in America and the UK this summer! Vivien is playing Oolong who Vivien says is a bit like an exaggerated version of herself!
Sharon Rooney as Sencha: Sharon has her BA Hons in Acting from Hull and has been touring up & down the UK since 2009. Sharon's credits are a long list but highlights are: Harry Hill & The Steamie. Sharon is making her debut at the Fringe and is also performing her own stand-up routine of songs and banter throughout the Festival. Sharon is playing Sencha, a mixed up lady with some serious issues!
Credits
Visitor reviews

Tony MCGEEVER
For a free show you don't get more rawer than this. This is what the fringe is all about. Getting up there and entertaining and that's what you get! Great story, great ensemble and great individual performances! Only thing that let this down was the venue but that's not their fault! Go and see this if you want a giggle and experience a true fringe experience!!!
alison cattroll
Having given up a paid show to see this, all we can say is, thank f**k we did! Absolutely hilarious! Highly recommended. In fact would rather have paid for that than most shows we've seen. Genius!
Sharon Linwood
Fantastic show girls, travelled through from Glasgow and didnt know what to do but the fab girls invited us in and so so glad we went. Please go see this if you can Glasgow humour at its best. funny funny funny.
mark simpson
These girls really know how to play an audience. Characters well observed and confidently played. V funny, catch it while its free!!