Ahir Shah
Ahir Shah: Astrology
Stand-up
5:25pm (1 hour)
3-28 Aug 2011
9.50
This is a 2011 show that has now finished.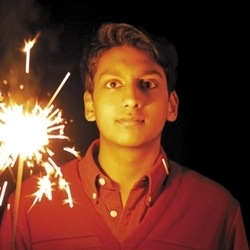 Show details
Stand-up show starring Ahir Shah performed on the following days in August 2011...
Mon
Tue
Wed
Thu
Fri
Sat
Sun
03
4
5
6
7
8
9
10
11
12
13
14
15
16
17
18
19
20
21
22
23
24
25
26
27
28
29
30
31
1
2
Venue details
Twenty years ago, Alka and Vikram Shah commissioned a Vedic astrologer to predict how their new baby son would turn out when he grew up. Ahir Shah's janmaakshar outlined everything from how he should be named to how he would look, what he would do and how his character would develop over the course of his entire life. A stand-up show about fate, reality and tradition, Astrology is the debut solo offering from a young man 'destined to become one of the brightest stars in the British comedy firmament' (Scotsman).
Share this show
Reviews
Full press release
Ahir Shah brings his debut solo stand-up show, Astrology, to this year's Edinburgh Fringe Festival. As a performer Ahir has appeared in Channel 4's Campus and on BBC Two's Newsnight and as a writer acted as a consultant on comedy drama Skins (Channel 4).
Although Ahir began performing stand-up five years ago at the age of 15, in some ways Astrology is a show 20 years in the making. Before he was born, Ahir's parents commissioned a janmaakshar - a horoscope based on ancient Indian Vedic astrology - that outlined how he would turn out in every aspect of his life.
Janmaakshar loosely translates as "that which is written at birth," meaning that the working title of this show was "Birthwrite" until Ahir realised he wasn't the kind of person who could get away with puns.
Expect jokes about existentialism, but also jokes about wanking. In essence, Astrology is the shameless appropriation of millennia of cultural and religious heritage by a boy seeking a loose narrative thread.
It'll probably be good though.