Your Days Are Numbered
Your Days Are Numbered: The Maths of Death
Stand-up
11:25am (1 hour)
5-15, 17-22 & 24-30 Aug 2010
5 - 9
This is a 2010 show that has now finished.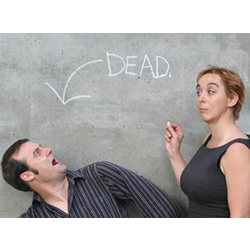 Mon
Tue
Wed
Thu
Fri
Sat
Sun
04
5
6
7
8
9
10
11
12
13
14
15
16
17
18
19
20
21
22
23
24
25
26
27
28
29
30
31
1
2
3
Venue details
Cows kill 20 Americans every year. But you can halve your chance of dying of a heart attack by drinking 8 bottles of wine a week. Death's a funny thing, as stand-up mathematician Matt Parker (audience award, FameLab 2009) and Timandra Harkness ('a deadly wit' Scotsman) will prove - with the help of a mystery guest, a game show and the Grim Reaper. You have a 0.000043% chance of dying during this show. You will at least die laughing.
Share this show
Reviews
Full press release
How long do you have to spend on an exercise bike to add 15 minutes to your life?
Why will drinking wine both increase and reduce your risk of an early death?
What percentage of men who live to the age of 100 will have prostate cancer? (Answer 100%).
Stand up mathematician Matt Parker and comedian Timandra Harkness got sick of reading ill-founded stories about how eating this or doing that was going to add six months to your life span, or halve your risk of dying from something or other. So they got a grant from the UK's biggest biomedical charity, the Wellcome Trust, to do the research and bring you the most definitive comedy show ever about dying.
You have a 0.000043% chance of dying during this show*. And if you do, we will refund the unused portion of your ticket to your grieving family. In fact, if you see our show and then die before the end of the Fringe, we will pay for your funeral.
"There is a real sense of risk and danger surrounding Timandra Harkness's act. Harkness has a deadly wit. She tosses away subtle one-liners as though they were chocolate wrappings, then picks them up and recycles them in her next routine." - The Scotsman
"Matt Parker does the funniest closed-loop complex integral routine I've ever seen. He'll have you rolling in the aisle like an infinitesimal disk of radius epsilon." - Simon Singh
Credits