Tim Clare
Tim Clare's Death Drive
Stand-up
7pm (55 mins)
6-15, 17-29 Aug 2010
5 - 7.50
This is a 2010 show that has now finished.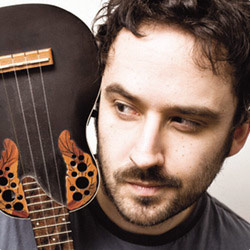 Show details
Stand-up starring Tim Clare that will be performed at Zoo Roxy at 7pm for 55 minutes, on the following days in August 2010.
Mon
Tue
Wed
Thu
Fri
Sat
Sun
1
2
3
4
5
6
7
8
9
10
11
12
13
14
15
16
17
18
19
20
21
22
23
24
25
26
27
28
29
30
31
Venue details
Clare's comic true story of how a father-son suicide pact transformed him from cynical loser to happy failure. A stand-up show with verse, ukulele and a psychic horse. From the presenter of Channel 4's 'How to Get a Book Deal' and author of the award-winning memoir 'We Can't All Be Astronauts'. 'Shrewd and funny' (Scotsman). 'Absolutely mesmerising' (Jon Ronson).
Share this page
Reviews
Full press release
There's nothing like seeing your dad have a go at an activity to make it seem embarrassing. It turns out suicide is no exception.
Sacked, dumped, and stuck living back with his parents, failed writer Tim Clare struggled to see the point in carrying on. Eventually, during a 4am drive, his newly spiritual dad staged a dramatic last-ditch bid to shock him out his misery. Thus Tim began a quest to lose his cynicism and get happy. But when you're faced with jeering teens, obnoxious neighbours, all six Rocky movies and a psychic horse, is there anything in this sordid world worth getting happy about?
Tim Clare's Death Drive is the wonderfully written and hilariously told debut stand-up show by the award-winning stand-up poet, writer and musician. Featuring the occasional ukelele song and verse, it is inspired by Clare's award-winning memoir We Can't All Be Astronauts - Winner of the East Anglican Book Award 2009 - and praised by Bookseller as "containing the bumbling charm of Jon Ronson and the splenetic bile of Charlie Brooker. Tim Clare is a fantastic writer."
"Shrewd and funny" The Scotsman
"Absolutely brilliant, mesmerizing" Jon Ronson
"Tim Clare is funny. He's smart. His poetry and songs are fresh and entertaining, whether taking swipes at middle class mores of comparing his love life to that of a video game character. Clare clearly has an energy that not only propels his poetry along at cracking pace but ensures the crowd is caught up in it too." Spoonfed
Tim Clare is a member of the Time Out Award-winning poetry collective Aisle 16 - whose other members include Luke Wright, Ross Sutherland and Joe Dunthorne.
He presented the Channel 4 primetime documentary series How To Get A Book Deal in 2005 and has written for The Guardian, The Times and The Independent. He's feeling much better now.