Thunderer
Thunderer!
Sitcom
12:30pm (1 hour)
9-24 Aug 2010
Free
This is a 2010 show that has now finished.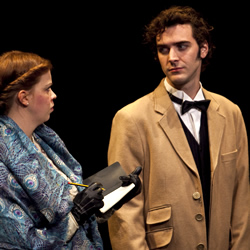 Mon
Tue
Wed
Thu
Fri
Sat
Sun
04
5
6
7
8
9
10
11
12
13
14
15
16
17
18
19
20
21
22
23
24
25
26
27
28
29
30
31
1
2
3
Venue details
Step into the newsroom of Victorian London's mightiest journal, The Daily Jupiter, with the already-acclaimed new sitcom Thunderer! - Funnier than cholera, faster than a horseless carriage and sexier than an uncovered piano leg!
Share this show
Reviews
Full press release
Fresh from its Best Show, Best Actor and Best Actress wins in this year's Sitcom Mission... Thunderer! serves up three whole episodes of thrills, romance and very large side-whiskers.
Thunderer! began life as an entry to this year's Sitcom Mission competition. It was one of 500 scripts submitted and went through three live London heats in front of industry audiences and judging panels before being declared the overall winner at the Grand Final on June 7th, with cast members picking up both Best Actor and Best Actress awards as well. The show is written by Bryn Mills and directed by David Fynn.
Cian Barry has recently played lead roles in Shameless, Waking the Dead, the feature films Holy Water and Ghost Town. Also a seasoned comedy West End performer, Cian has had lead roles in One Flew Over the Cuckoo's Nest and The Rivals and has worked at the Young Vic and Old Vic (with Kevin Spacey). Winner of Laurence Olivier and John Gilgeud scholarship awards.
Emily Houghton is a recent graduate of RADA, she has already appeared at The Globe Theatre, the Leicester Curve Theatre and London's West End.
David Fynn is a regular on the London comedy circuit and has recently appeared in The Inbetweeners and Dr Who and the movie Leap Year with Amy Adams. He has also worked with the Royal National Theatre. David won the Best Actor awards at both the Margate Comedy Film Festival and at The Sitcom Trials in London's West End in 2009.
Robert Vernon graduated from the Royal Welsh College of Music and Drama in 2005. Since then he has appeared in a variety of productions (including the obligatory spot in Casualty) and appeared in Sherman Cymru's 2008 production of Beauty and the Beast. This will be his third Edinburgh Fringe and he has also appeared at the Bristol Old Vic and Barbican. Last year, Robert completed a national tour with the Royal Shakespeare Company.
"Witty, playful and inventive. It isn't too often that I've seen a piece of debut writing that has amused me this much!": Michael Deacon, The Daily Telegraph
"Great laughs, performed with gusto!": Dawn Ellis, producer of Ed Reardon's Week, Radio 4
"Riotously Ribald! A thumpin' good comedy of the situational variety!": Marc Blake, Author of How To Be A Sitcom Writer
Credits