Richard Herring
Richard Herring - Christ on a Bike: The Second Coming
Stand-up
9:45pm (1 hour)
5-30 Aug 2010
5 - 11
This is a 2010 show that has now finished.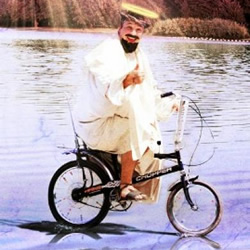 Show details
Stand-up show starring Richard Herring performed on the following days in August 2010...
Mon
Tue
Wed
Thu
Fri
Sat
Sun
04
5
6
7
8
9
10
11
12
13
14
15
16
17
18
19
20
21
22
23
24
25
26
27
28
29
30
31
1
2
3
Venue details
'Jesus was cool, it's just all the people who follow him who are such idiots. He's like the Fonz in that respect.' 'Hitler Moustache' star and avowed atheist resurrects and revamps his first and favourite solo show, exploring his strange obsession and affinity with the Messiah. 'I'm not saying I am Jesus ... that is for other people to say.' Asking all the great theological questions like: 'Why did Jesus always call Simon 'Peter'? Is it like the way Trigger always calling Rodney 'Dave'?' 'Top-notch' (Chortle); 'Hilarious' (Guardian); 'The best comic of his generation' (GQ).
Share this show
Reviews
Press coverage
Full press release
Jesus Christ - Son of God! Saviour of mankind! Superstar! Richard Herring - Son of Keith, a retired headmaster! Once saved a spider that had become trapped in his bath, only crushing three of its legs in the process! Hosted 10 episodes of a chat show about poker on a satellite channel which subsequently closed down! At first sight they have little in common. Or do they?
The star of last year's critically acclaimed Hitler Moustache returns to Edinburgh for his 19th Fringe and incredibly his 27th show. This time he's revisiting and substantially reworking his first and favourite solo work, Christ on a Bike. Now ten years older than the Messiah when he died, has Herring achieved as much with his life?
"Last year the show was about Hitler. This year it's about Jesus. My target audience is clearly Pope Benedict."
As a committed atheist why is Herring so obsessed with Christ? Is he scared he might be wrong to be so dismissive? Does he feel that Christ's true intentions and message have been subverted by his followers? Or does he secretly hope, in his heart that he might be Jesus, back at last, just like he promised, only about 2000 years later than planned?
"I'm not saying I'm Jesus... that is for other people to say."
Along the way he asks all the great theological questions: Why did Jesus always call Simon, "Peter"? Was it the same as the way Trigger always called Rodney "Dave"? What ever happened to the Gold, Frankincense and Myrrh? Wouldn't they have made a humble biblical family like the Christs wealthy beyond their wildest dreams? What happened to Lazarus the second time he died? How many weeks would you have to attend Roman Catholic Holy Communion before you had consumed an entire Jesus?
"My problem isn't with Christ, but with the hypocrisy of the Christians. Jesus is cool. It's just all the people who follow him are such idiots... he's like The Fonz in that respect."
Combining child-like guile with rigorous academic research, Herring attempts to discover the true historical Jesus, find out why he is all things to all men, discovers a mistake on the very first page of the New Testament and tries to ascertain if Jesus ever really did walk like a lady and wear a bra.